Five Overlooked Points In Ray Rice Case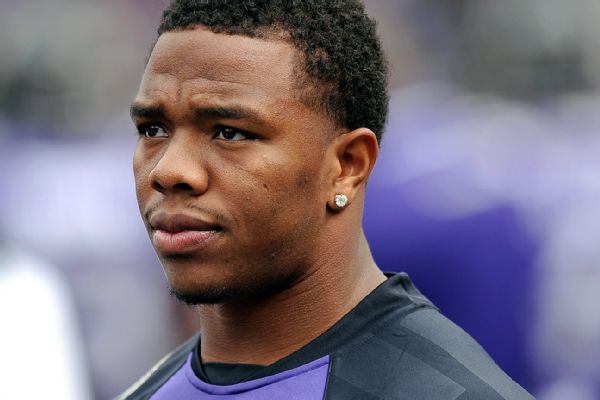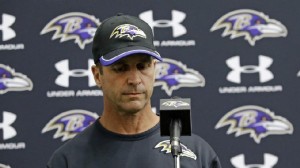 1) Where is the Ravens' Front Office in All of This?
Ten hours after the most recent TMZ Sports video got released, the Ravens decided to cut Rice from the team. Just a few hours after that, head coach John Harbaugh addressed the media in a scheduled press conference, along with…well, nobody in the front office.
Why in God's name is John Harbaugh the lone, single speaker, representative, and sometimes defender in the situation? He certainly didn't do the job well enough for ESPN and the like…We know
The question no one is asking:  Where are General Manager Ozzie Newsome and Team Owner Steve Bisciotti in all of this? Both of whom have a habit of being present at press conferences. Regarding anything from the annual "State of the Ravens" post-season address, to Ozzie sitting next to Ray Lewis in 2001, Ravens brass makes their presence felt. Why not this time, with something so serious and fragile?
Speaking of fragile, what about a PR standpoint? Where is Team President Dick Cass? Understandably, the team's reputation isn't anyone else's biggest concern, or even close. But where is the brass when they need to vouch for their company? No message about not being able to see the video from the PR department? Wow.
Aside from all of that, the Ravens possessed the power given by the league to suspend Rice or fire him as soon as the first video was shown in February. Ozzie and Co. generally get these things right…Well, as right as one can get these things. Not this time, however.
2) We Should All Really Stop Showing the Video on Public Mediums.
It has been established. We know what happened. We know Rice's arms are the size of car rims and Janay did literally nothing to warrant that heinous action of what was called "self-defense." We know! Stop being twitter fiends. It's not a NASCAR crash. It's society's ugly side.
Some images just should not be shown to the public, especially when the public very possibly consists of a young, malleable-minded demographic of children.
Here is the larger, more damaging point. I should first leave Ravens DE Chris Canty's take here first, being that he articulated better than I, but I'll elaborate:
Is it a potential teaching moment for parents? Sure, I like that take. But it's simply encouraging troll comments and advocating violence when it's shown. Let courts and the proper authorities dissect it (though, we see how well that worked), not kids getting home from school and turning on ESPN.
What does it all do to the victim. Do you Janay Rice appreciates the video on constant cycle all day, on certain major sports networks?
Is the recently married Janay Rice a simple name, or keyword if you will, in all of this reporting and analyzing, or is she an actual victim? We keep hearing on every channel and reading on sites about how horrifying and sad it is, yet no one considers how harmful showing the video on loop may be. Here's the answer. It's devastating. Would you show your sister the same video of herself getting assaulted?
Who is Janay Rice to you? A celebrity example, or a person who suffered a great deal of pain and psychological damage? We're adults. We know what happened. Stop trying to get hits and rises from folks.
3) It is Absolutely, Entirely Possible That Both the NFL and the Ravens Could Not Obtain Video (Though Not Likely), While TMZ Could
For those not so well versed in the dynamic, ever-changing gray area which is the field of journalism, here are some important factors and rules to consider.
TMZsports.com itself, founded by Harvey Levin, is under very different journalistic juristictions than most outlets. For example, Levin's organization can get away with openly acknowledging the payment for such video as Rice's assault, without having to explain some phantom third party involvement or hush-money trail.
Now, to assume the NFL simply wanted to remain ethical is laughable and naive. Fine. But, is it possible that someone higher up in management of the Revel Casino or even TMZ Sports did/does not care at all for the NFL or what they stand for? Yes, that's very possible.
If one truly wanted to burn the NFL, withholding the video and holding out for an alternative buyer would be the way to do so. Money can't buy you everything. It does not always have to be a case of "did the NFL really get outbid for the video?"
If the NFL is the big bully on the block, getting greedier by the minute, why wouldn't other outlets want to have their shot? Just a thought.
Levin says there is proof coming soon that NFL is lying regarding whether or not they saw the second video prior to this morning. Until then, we simply guess.
4) Ray Rice Very Well Could Have Played the Ravens From the Start
This one seems the most obvious to most, but still isn't spoken about much.
Remember: Aside from his previous Choir-Boy reputation, Ray Rice established credibility within Baltimore prior to the assault, specifically through a very passionate anti-bullying initiative, which has the eery and horrifying cover-up feel to it, almost parallel to Michael Vick's "I love animals" quote in an interview with Rachel Nichols prior to his dog-fighting being exposed.
Remember way back when the Ravens held the first press conference with Ray and Janay, letting Ray do the talking?
Yes, a PR disaster from the start. But, consider this. Assuming the Ravens had indeed not seen the video prior to this morning (a big, but possible assumption), literally the only content from which they had to analyze were the words of Janay and Ray Rice.
Do we all understand that? They did not check the proverbial gopro camera attached to Rice's chest the next morning. They did not hook them both up to polygraphs and see what came up…we think.
Ray Rice said what he said, Janay backed him up both publically and apparently in private as well, and they proceeded accordingly.
One of the ways Ray could've played the organization? The 'Self-defense' excuse. We can all agree on the fact that the cop-out of self defense in Rice's case is pathetic to begin with. But to then watch the second video and realize he was almost untouched? Wow.
5) Where the Hell are the Articles and Monologues Ripping the State of New Jersey?
Let's bring back into frame the actual fact that this case was indeed taken to trial in a state court case. The Atlantic County Criminal Courthouse heard the assault case on May 1st, 2014, after the incident occurred in February.
Accoring to the AP, the case lasted just five minutes, before Rice said cliche words such as "ashamed" and "sorry." Five minutes? We know it's not the most elaborate case, but even Nucky Thompson didn't get off that easy.
After we learned that what the prosecutors described as "video evidence beyond what was published" actually existed, we can then assumed it was used in a court of law, right?
What's more, it was well-documented to anyone reading or listening to media in May of 2014 that the window of jail sentencing if convicted of assault, which Rice was, is three to five years in prison.
Um…what?
And yet, the NFL and the Ravens seem to be answering the most–sorry–all of the questions. Were there not any legal representatives present on May 1st?
Let's put it yet another way. In a hypothetical situation, let's say one's neighbor was assaulted as a victim of domestic violence in similar brutality. The husband's employer slaps him with a two-week suspension without pay (which probably wouldn't even happen, sadly), but more importantly, the District Court of Maryland simply issues a fine–no jail time.
Which party deserves more accusation and questioning? The employer, or the actual court of law which heard the case in its entirety? Does the fact that Rice is a celebrity really make the process of questioning the courts useless…or at the least, trivial? If so, that's just as sad.
At minimum, it's at least somewhat understandable for the NFL to be tonedef in a situation such as this–they may have lacked the perspective of a woman when handing out Rice's discipline. Zero excuse is valid for that. However, even less tolerance should be given to the courts. "tonedef" can't fly there.