Washington Wizards Season Preview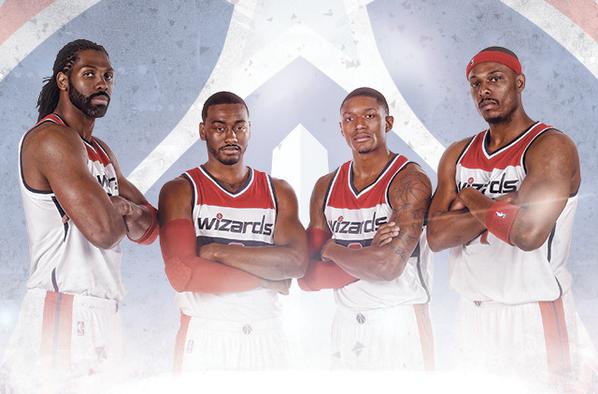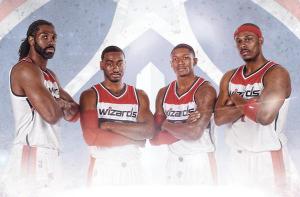 Last season was a pleasantly surprising one for the Washington Wizards. Prior to their run in the conference semifinals, Washington had not sniffed the postseason for six years, back when Gilbert Arenas and Co. reached their peak against LeBron's Cavaliers.
Well, LeBron is back in Cleveland yet again, and he has younger, deeper talent this time around. This means the eastern conference may actually have some competitive parody this year:
Chicago (a team the Wizards comfortably handled last postseason) has improved greatly offensively, New York has put themselves in position to improve, and even Charlotte made a bluechip free agent signing with Lance Stephenson (to go along with some badass uniforms).
Assuming the signings show progress with those teams, the Washington Wizards won't be able to move through a series with the Bulls as easily, should that playoff series come to town. Nor would they have it easy with the improved Cavaliers and Hornets.
Forget expectations for a minute. First, let's put the team's playoff run last year in perspective. Just how good was this team?
Against the mediocre Charlotte Hornets (then Bobcats), Washington lost three of four games within their series. Charlotte had no star. The Wizards were a higher seed. Yet, is anyone really confident that they would've won a playoff series against Charlotte had Jefferson been healthy? How much better were the Wizards than Charlotte?
However, Washington was 33-19 within their own weak conference. To give a clearer picture on how solid that number is, the one-seeded Indiana Pacers were 38-14 against eastern teams. Though one could argue the Wizards should have done even better within the east, expectations were still surpassed.
Looking forward, those expectations will be raised sharply. The primary reason for that is the added year of experience for both young backcourt players, John Wall and Bradley Beal. Wall and Beal made some magic happen last year, most notably in the playoffs. When one was off, the other was on, and vise-versa.
Re-signing Gortat was imperative, as the Wizards are already thin on the depth chart when it comes to bigs. Gortat had a career year, and shined in the playoffs when the team needed a dominating rebound performance.
Although Gortat is back, Nene is often hurt, and the man who spells him, Trevor Booker, just recently signed a deal with the Utah Jazz. To counter the loss of Booker, Washington signed Kris Humphries, who averaged 8.4 points and 5.9 rebounds a game last season, to a three year, $13M deal.
The even bigger move within the painted area this offseason was the sign-and-trade deal with the Mavericks to acquire power forward DeJuan Blair. Combining these signings with the retainment of Drew Gooden, who surprised people last year, the Wizards now have decent depth at power forward and center.
It goes without saying that D.C.'s biggest signing this offseason was future hall-of-famer Paul Pierce. Pierce signed a two-year deal after becoming a free agent, and the team expects him to fill the void left by forward Trevor Ariza, who signed a four-year, $32M deal with Houston. However, Pierce signing with the team should only be considered a stopgap move at best, as the team looks for patchwork until Kevin Durant's free agency.
All in all, the Wizards and their fans should expect a season at least on par with what the team was able to accomplish last season, mostly due to a balancing act: Washington got a bit worse on defense as they transitioned from Ariza to Pierce, but they may have a bit more depth in the scoring department as young standouts Otto Porter and Glen Rice Jr. looked very solid in summer league play. Another trip to the conference semi-finals in the eastern conference is not asking too much.