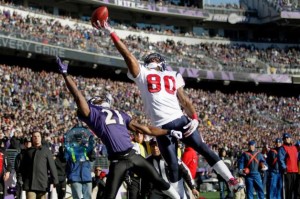 The Houston Texans' star wide receiver Andre Johnson, 32, has apparently demanded a trade to another team via his agent.
A few years ago, general manager Ozzie Newsome and the rest of the Ravens' front office would've been all in on acquiring the all-pro wide-out. They would have been at the front of the phone lines, working out a pick-for-player deal, a la Anquan Boldin.
The move would make sense, if only from a scheme-fit standpoint. The Ravens' new Offensive Coordinator Gary Kubiak was Johnsons' head coach and play-caller in Houston for several years, and Owen Daniels, a former teammate of Johnson's, is on the Ravens' roster.
Unfortunately, it's 2014, and the Ravens' wide receiver room is a crowded one: It's obvious that third-year player Torrey Smith is an upcoming star with the potential to become a dominant number one receiver this season.
What's more, Smith will most definitely receive a new contract, which means more cap space devoted to a player other than Andre Johnson in years to come. Couple that with Haloti Ngata's demands for a new deal, and cap space is suddenly a bigger issue.
Reason (and receiver) number two for the doubt of bringing A.J. to town:  Though Marlon Brown only had 49 receptions for just 524 yards, the sophomore Raven hauled in seven touchdowns in a limited role.
At a realistic first glance, Torrey Smith and Marlon Brown are just a decent pass-catching duo. However, perhaps more aggressively than most thought, the Ravens re-signed Jacoby Jones to a four-year deal. The return specialist/wideout has been a very impactful Raven since day one, but he, too, will take some catches from Smith and Brown.
Apart from all of that, the biggest reason the Ravens cannot and will not go after Andre Johnson is because they've already signed a big name veteran receiver from another team; Steve Smith Sr.
Steve Smith is more of a Boldin replacement than Ravens fans could hope for, and Johnson may be a better "big play" option opposite Torrey, but it's not about whether Smith Sr. or Andre Johnson is the better signing. It's the money devoted to Smith Sr., as well as the number of passes from Joe Flacco. There is simply not enough of either to go around.
Although Ravens fan have wanted a big name, big play receiver to throw onto the roster, it just isn't practical for the Ravens, nor is it for Houston, because of salary cap issues. Ozzie knows it, Texans brass knows it, and fans have to come to grips with it. Though it would be nice to give Flacco a seemingly A-plus group of targets, Baltimore will have to win with who they have, and that should be good enough.