Hey, Ravens Fans, Look Familiar?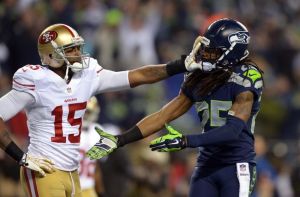 There's nothing like football on Thanksgiving. It doesn't matter if both teams are irrelevant to the playoff race, or if they're playing what's anticipated to be a competitive rivalry game holding major playoff implications. It always feels comfortable, yet chaotic. It feels regional, yet national.
Thanksgiving football is full of a different ambiance all together, but there's one very familiar feeling which seemed glaring when the Seahawks played the 49ers in San Francisco on NBC last Thursday. Seattle would go on to win that highly anticipated matchup, 19-3.
Although the rivalry has been hyped, it's been the Seahawks taking the majority of the wins, leaving the series lopsided in recent years. Seattle has won against the 49ers when it's mattered most, notably in a crucial NFC Championship game, which lead to Pete Carroll winning his first Super Bowl, while leaving Jim Harbaugh with none. Sound Familiar?
Hey, Ravens fans, remember how everything felt prior to the 2012 Super Bowl season? Do you remember catching "little brother syndrome" when the Ravens played the Steelers? Polamalu's unblocked hack-sack at home, the 3rd and 19 conversion by Ben in 2008, James Harrison sack-fumbles on Flacco, followed by more James Harrison sack-fumbles on Flacco.
The list got long, and nothing went right. Even when they made it past the Steelers, they couldn't close against New England.
There's no need to sugarcoat it or lie–that's how it was. Before late in 2012, for a full decade, it seemed as though no matter what the Ravens did as an organization–playing, scouting, etc.–they would undoubtedly fall short against the more successful rival in Pittsburgh.
Sure, Baltimore had their first championship in 2000, but it's best to throw the past out the window when discussing relatively recent organizational success (I would gauge that as a decade or so). When Pittsburgh drafted Ben Roethlisberger in 2004, they went on to win two Championships, beating the Ravens in the division each of those years. Coach Cowher lead them to the first, while newer coach, Mike Tomlin, won the second. All the while, Tomlin's career-rival, John Harbaugh, still had zero rings.
What's more, in 2008, the Ravens played the Steelers three times, losing all three games by a close margin. Most notably? A crucial loss in the 2008 AFC Championship game. Again, sound like a familiar script?  Tomlin was to John as Carroll is to Jim.
It's also worth mentioning how eerily similar these rivalries have been, in that all four teams have had one strong correlation to their success–defense. It wasn't a stretch to say that in the last decade or so, the Ravens or Steelers had the best and second best defenses, interchangeably. The same could most definitely be said for the 49ers and Seahawks interchangeably as well.
Another Parallel (if off by just a few years in age) are the quarterbacks. Roethlisberger's early success was well documented. Joe Flacco's lack of ultimate success was as well. During Flacco's first four seasons in the league, the Ravens would get close, but could never get over the hump against Pittsburgh. It just was not meant to be, or so it felt.
The west-coast version of Ravens vs Steelers has it's own rivalry within a rivalry at QB as well. Russell Wilson has enjoyed parallel success to Roethlisberger's early seasons, arguably just lifting a championship-ready contender to the next level while winning a Super Bowl. For whatever reason, it hasn't worked out as smoothly for Colin Kaepernick as quarterback of the 49ers, even if the difference has been just a play here or a bounce there. Flacco seemed to have limitations, as does now Kaepernick.
Maybe he and his 49ers will be fortunate enough to feel the relief of winning a trophy in what would seem like their rival's decade, and maybe they won't. It is undoubtedly fascinating to look at the parallels and similarities between both rivalries. There's little denying that Pittsburgh and Baltimore were Seattle and San Francisco before it was…cool…or excruciatingly painful for one franchise. Either way, it's fascinating.