Advice for Students on Upcoming Job Fair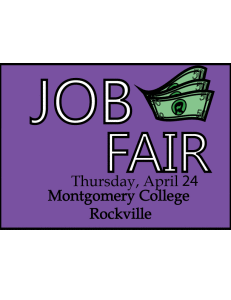 Montgomery College's Rockville campus is hosting a job fair on Thursday, April 24 at the Rockville Montgomery College campus. The job fair will be held in the Theatre Arts Arena starting at 10 a.m. and ending at 1 p.m.
If students cannot make it to the event, there will be a job fair on both Takoma Park and Germantown campuses. Takoma Park's job fair will be on Wednesday, April 9, in the Student Services Building from 10 a.m. to 1 p.m. Germantown's job fair will be on Tuesday, April 29 in the High Technology Center from 10 a.m. to 1 p.m.
For students who have already selected their majors it will be a chance to talk to employers in their relating fields in order to find out what experience and skills they should be building.
The students who haven't already declared a major may find out what field they're interested in going into by talking to potential employers about their jobs.
Students who are getting ready to graduate may find their first professional, salaried job or even make connections that could lead to it. For students who are getting ready to transfer this is going to be an opportunity to get a job that will be able to fund the next stage of their education.
As for international students whom are on a visa which limits their work options, they may be able to find a job that can turn into an internship.
Students who already have a job should still come. They may find something that pays better or is more closely related to their major and will be great experience for down the road.
Here are a few tips in order to prepare for the job fair:  Do some research on background information on the companies that are going to be there. Dress appropriately, as if going in for an interview. This will give credibility and allow students to be taken seriously.
Appropriate attire does not necessarily mean a suit, but dress pants and button-down shirt or blouse. Bring plenty of résumés on good paper in immaculate shape to hand out.
Students should make contact with potential employers by professionally introducing themselves and discussing their interests and qualifications for potential positions.
It's advised that students don't forget to find out what the company is looking for–students should ask about career possibilities within the company for people with their skill-sets rather than asking for specific job titles or openings.
Most importantly, follow up with a thank-you letter or a phone call to each potential employer who took the time out of their day to speak with you. It does not matter whether they have openings that interest you right at that moment. This will keep you as a potential hire in the future.
If any student needs help building a résumé, or needs tips on how to do well in an interview, make an appointment with Takoma Park's Joe O'Hare (240-567-1630 or Joseph.O'[email protected]), Rockville's Roberta Buckberg (240-567-1614 or [email protected]), or Germantown's Pat McGlone (240-567-1970 or [email protected]).