Review: No Good Deed, No Good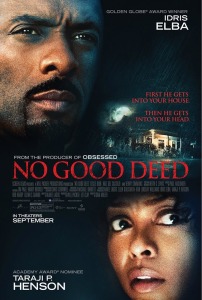 This past weekend I watched the movie "No Good Deed," starring prominent actor and actress Idris Elba and Taraji P. Henson. Henson plays the role of a devoted wife and mother, Terri. Terri leads a more than comfortable life that gets threatened when Colin, a malignant narcissist played by Elba, uses his charm to terrorize Terri and her family.
Through the events leading up to the shocking plot twist, the movie No Good Deed is simply "no good" as it slacks on the details. The lack of details does injustice to the cunning after-thought of the unexpected climax.
This production was slow and riddled with cliches that gave the audience room to make multiple predictions across the duration of the film. The depiction of home-invasion turned incompetent through the first half of the movie dragged on and left the audience potentially uninterested in the story line due to a failure in creating adequate exhilaration.
The director Sam Miller is ineffective in conveying his ideas, resulting in wasted talent. The violent thriller could have done a much better job in the aspect of grabbing hold of the audience's attention. Instead, it crept to a plot twist that would've been the most effective part of the film, but was rather the sole occurrence that created permanence within minds of the viewers.
Although malevolently clever, this film lacks the necessary detail and dialogue needed that would have set it apart from being classified as a typical home invasion thriller. I do not recommend going to see this movie.