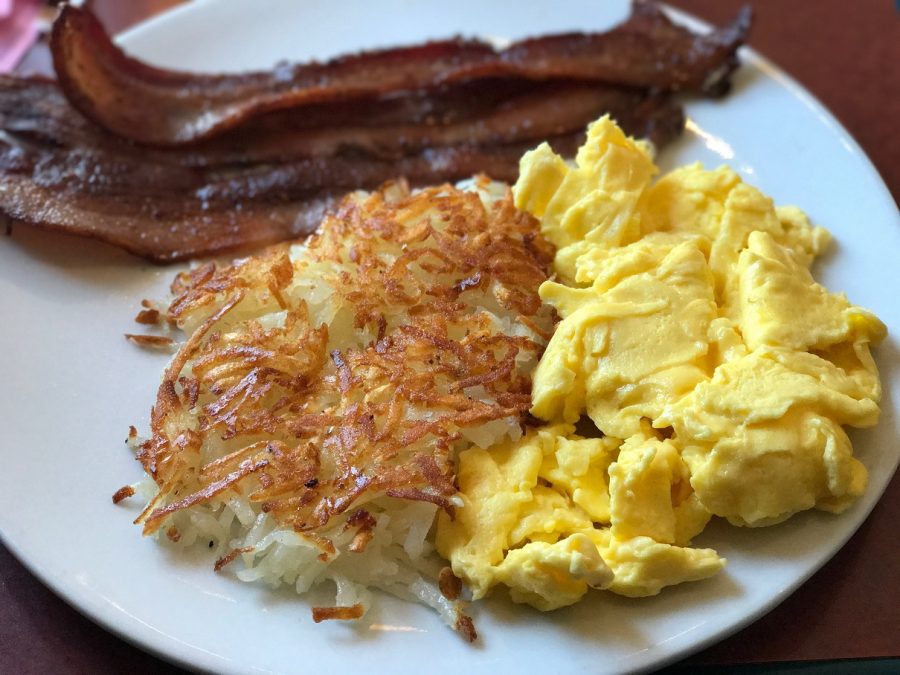 A Classy Take on Crêpes
Rockville's very own breakfast and brunch dinner!
What could be better for a college student than a cheap, filling, delicious, and convenient meal? Nothing. That's why I think the Original Pancake House is the right for college students.
As an avid customer, I absolutely love this place. It's close to campus and the food is filling and inexpensive. "They serve breakfast and lunch food until 3 p.m.
"They serve breakfast and lunch food until 3 p.m.," said the waiter.
The restaurant is big, but as I walk in I feel as if the restaurant's seating is very awkward and very tight.
An example would be how the bigger booths are put in very small areas, mixed with 1-2 person seating tables. The other side had long booths on the walls and a table in the middle with one chair on the other side.
For starters, you get what you paid for, and this was surely a lot of food.
I ordered the Crepes and the Bacon and Egg Hashbrowns.
The crepes come with a lemon, maple syrup, and powdered sugar on the side.
The waitress brought my food in less than 7 minutes.
This is what you call a classy take on crepes!
With these crepes, you would want to squeeze a little lemon juice on all of them. Next, use the powdered sugar on top and watch how beautifully the powder sugar falls. It's like watching the snow fall in winter. Lastly, pour the maple syrup on top, but be careful, you would not want to drown the crepes in syrup. Doing so would prevent you from realizing how sweet and simple these crepes are.
Now, it's time for a bite. My knife slid through the crepes very smoothly. These crepes were light and sweet just the way it's meant to be. The lemon helps create a sensation in your mouth that gets you excited to finish all your food.
Up next were the eggs. The eggs were cooked to perfection. The bounce of the eggs was just right meaning it was fluffy enough and cooked all the way inside. Cutting into the egg was very light, which is what I loved.
Biting into the egg, it had enough spice and enough heat. I was definitely able to taste salt, black pepper, and paprika on the eggs. It was also piled on with warm gooey American Cheese, the perfect combination.
The Hashbrowns were crispy enough but very very plain. I suggest putting a little bit of salt and a little bit of syrup on the hash browns. The hash browns were crispy, sweet, and salty. This was the perfect combination for such a dish.
The bacon was extra crispy, and a had just the right amount of salt on it.
Overall this meal was very satisfying and well cooked.
I give this place a 4 out of 5 Advocats!