Advocating: FIFA 14; Get Messi, Make Plays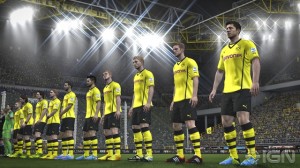 If you played last year's installment of EA's FIFA on XBOX 360 or Playstation 3 and you enjoyed playing it, you will love FIFA 14. Released on Sept. 24 of this year, the game showed a vast improvement since the release of FIFA 13 last year.
FIFA 14 includes more leagues available to play with. Some of the new leagues are the Argentinian, Chilean, and the Colombian league, including Club Atletico Independiente, one of the top Argentinian teams, which was relegated to the second division.
The gameplay is pretty similar to FIFA 13. You will be able to get a second chance to tackle your opponent.
In comparison to FIFA 13, the players' movements on the pitch are more realistic, largely due to the fact that physics engine for FIFA 14 is even better. It has more accurate, paced motions and movements that are closer to real life. The CPU will not intercept every ball you run up the field (as they seemed to do on higher skill levels in previous installments).  However, each movement made by the player seems to be well contested and sensitive enough to challenge one's agility on the sticks.
It has also become much more rare for CPU to score seemingly impossible goals with the slightest of efforts, even while playing in World Class or Legendary modes. Injuries are  obviously still an obstacle of your league in FIFA 14, but it is no longer as easy to injure another player, nor does it occur as frequently as before.
The online code system for EA Sports was also discontinued entirely this year. This means that you will be able to play any EA Sports title online without an online code. The online gameplay for FIFA 14 is similar to that of old FIFA games.
The Manager Mode, compared to the FIFA 13, looks different, and more players are available for your desired team. The only thing that does not look realistic is playing with a South American team – although in live soccer they are overwhelming and often better than European clubs, the South American squads tend to have poor match-ups in FIFA 14 again and again – something that is not the case in recent League play.
When the trading season is active, you can play friendlies (scrimmages) with other teams. You can also play with European teams which are, in general, harder to defeat than others.
In short, FIFA 14 is an amazingly polished game that is as close to real futbol as it gets. With tweaking its player movements and game actions through a better graphics engine, EA has put out an even smoother masterpiece on the pitch. Sit back, kick it around, and enjoy lighting up squads, Messi style.