The Advocate's Year In Review: Elysium
Released earlier this year on August 9, Elysium has been one of this year's highest grossing films, reporting earnings of $29,807,393 the first weekend after its release.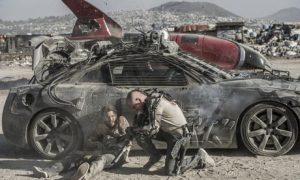 The storyline takes place in a distant future, in the year 2154.Max (Matt Damon) is a poor citizen in a lawless, ruined Earth. The wealthy live in Elysium, a parallel space building to the Earth that simulates the climate and conditions of the planet, allowing for human life.
 Elysium habitants have the latest technology and security; every time an Earth citizen leaves the planet to attempt defecting Elysium, they are killed. Delacourt (Jodie Foster) is the leader of Elysium. The story begins with Delacourt sending a highly-trained mercenary named Kruger (Sharlto Copley), to prevent the equally cunning Max from escaping Earth to Elysium, inciting an unstoppable chain of events.
The movie was well done, the characters are well developed, and the story is compelling. Surprisingly, some critics weren't too fond of it, giving it a 7/10 rating.
I believe Elysium deserves at least a 9/10.