Uncovering Google's Upcoming Technology: Nexus 5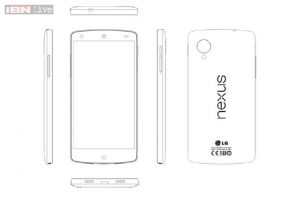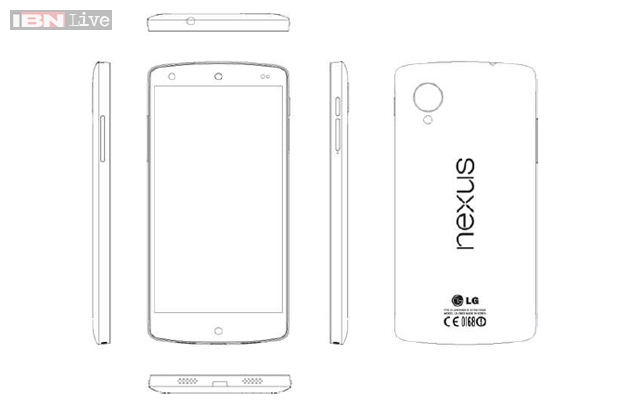 Google has been broadening their roots as a business, and creating the best search engine in the world apparently wasn't enough. During the past eight years, Google has been in the market of building smartphones. The 'Nexus 4' is the most well known model to date. It is also fairly well known that Google bought out the "Android" company  in 2005. The Android Platform is used by all of Samsung's phones and during the second quarter of 2013 accounted for 79 percent of smartphone shipments in North America according  to brg.com.
Google fans got a glimpse of a brand new technology during the companies release of Android 4.4; the Kit Kat, which is the future operating system for Android smartphones. A leak occurred when pictures of Google employees using a previously unknown smartphone surfaced on the Internet (whether this was an intentional marketing ploy is up for debate). The pictures expose two labels, Nexus and LG on the back of the unknown device. The manufacturing company LG was rumored to be working on Google's next smartphone.
Google has confirmed that the Nexus 5 may be available to the public by the end of Oct. 2013.  The Device will be released with 16 gigabytes of internal storage, and 32 gigabytes for consumers who would like to keep their phone memory large (and have the monetary requirements to do so, of course).
The Nexus 5 will also hold an LTE transmission chip, giving the phone top-of-the-line data streaming capabilities. According to Erick Pineda from au.ibtimes.com, "Expect the Nexus 5 to sport a phablet-size screen, at least five inches, with 1080p display resolution". What's more, the Nexus 5 will have no trouble running applications simultaneously for increased productivity. This is because of the quad-core processor that's made up of four units, each follows instructions separately or works together depending on the task. All of these exciting new features should blend well with a graphic engine called the "Adreno 330 GPU". Enjoyable touchscreen displays are a point of interest .
With no more than a leaked picture to describe any physical details of the phone, it's impossible to speculate a perfectly accurate design for the Nexus 5. Google's investments toward the smartphone's hardware and streaming capabilities have changed today's exploding wireless market.