Welcoming the Virtual Campus at Montgomery College
Montgomery College began offering online courses to students long before the pandemic. Over five years, MC has grown into becoming one of the best online colleges in America according to PremiumSchools.org. As its status has increased, so has its student body. I spoke to Dr. Sanjay Rai, Senior Vice President of Academic Affairs at MC, and Dr. Shinta Hernandez, Founding Dean of the Virtual Campus at Montgomery College, who had some interesting data to share. According to the Office of Institutional Research and Analysis, the total number of students enrolled at MC in distance learning or completely remote courses at MC was 7,641 for the Spring 2022 semester. This figure is greater than the 4,213 in-person students at the Germantown campus and the 4,417 on the Takoma Park/Silver Spring campus, and it falls right under the 8,725 students on the Rockville campus. "For these students," Dr. Rai said, "Simply having accessible and rigorous courses with high-quality professors isn't enough, they must be supported with an identity on campus and be provided with all the services the MC campus has to offer, but on an online platform. This is where the Virtual Campus comes in."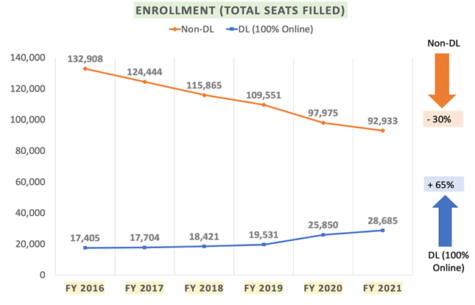 The launching of the Virtual Campus will take place through phases:
Phase 1 will involve making all courses on all campuses available online, transferable, and affordable to all students interested in taking them. Additionally, virtual financial aid, registration, and onboarding will be implemented. Phase 1 will begin as soon as the Fall 2022 semester.
Phase 2 will be making degree programs and certificates available to students on a completely online platform. For example, if their goal is to get qualified to work in an industry, they should be able to without ever commuting to campus.
Phase 3 will be extending Student Life activities, clubs, competitions, research opportunities, internships, advising, and many more on-campus essentials to MC's online students.
Dr. Shinta Hernandez said, "The launch will be long term. We will continue to think and deliver courses, degree programs, and services and always add relevant technologies, disciplined faculty, and services. That will be our long-term, sustainable goal."
She explained how the work of implementing and looking for ways to update the virtual campus was divided into two teams. The "Horizon" team will be on the lookout for new, emerging technologies that will enrich the platform of the online campus, while the "Implementation" team will put their ideas into practice. This implementation plan should ensure that the Virtual Campus is up-to-date and highly efficient to meet all the unique needs of MC students.
Dr. Hernandez urges all students to visit her during her Virtual Campus Lounge Hours, which will take place every month, to share their experiences, queries, feedback, and ideas for the virtual campus.
To learn more about this platform for sharing and learning at MC, go to https://www.montgomerycollege.edu/academics/online-learning/index.html.
The schedule for Lounge Hours in May will be:
Thursday, May 5 from 10:00 to 11:00 a.m.
Friday, May 6 from 10:00 to 11:00 a.m.
Monday, May 9 from 9:00 to 10:00 a.m.
Tuesday, May 10 from 6:00 to 7:00 p.m.