Logic's Montgomery County Roots Inspire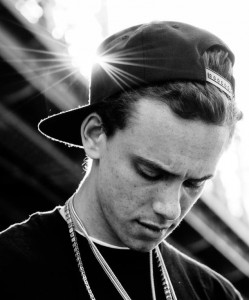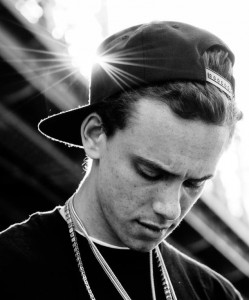 The world can hear the name Sir Robert Bryson Hall II today, and only those well informed fans will turn their heads and pay attention. In a few years, however, that same name will receive the global welcome of media as well as the admiration of the many who share the same dream to enter the music industry and earn their own spotlight. This name, however, is only the shadow of what stadiums and concert halls will be echoing. Robert Bryson Hall is Logic.
Born on January 22, 1990, Hall [Logic] has been working countless hours and sleepless nights to finally live what has been the Cinderella story of a young man whose future seemed bleak and hopeless. From dropping out of high school in his sophomore year, to going on worldwide tours and signing with Def Jam records, Logic has defeated the adversity against him as a musician, and more importantly, as a person.
Logic's story begins in Gaithersburg, Md., where he was born and raised under the harsh conditions of alcoholism and crack addiction in his home. The Artist describes how growing up in this environment impacted him and his music, "I feel like I'm a product of my environment but in a positive way. Seeing drugs in my household, not only being used, but being made, sold, and distributed, I saw it as something that other family members [of mine] might have fallen into. I wanted to break the cycle. I would write about it instead. Rather than doing it or lashing out, I would just write."
At the age of 13, Logic had met Solomon Taylor; the man that the rising star now considers his mentor. Taylor was able to grow Logic's interest in rapping, bringing him discs with hip-hop beats, so that the artist could write his own lyrics and put his vocals along with them. This all started his successful career, at age 16. Logic talked about the impact his mentor, Taylor, had on his musical career, "He was very caring, and was there for me. He did his best to set [a good] example for me. He gave me a computer–the first computer I ever had–to record my music with, and he'd always give me beats and [many] other things."
At the age of 17, the hip-hop artist moved out of his home, and stayed with a close friend's house, where he continued to attempt to perfect his music.
As the years went on, Logic became more serious about building his musical career. His ambitions grew as he began making plans for his future. At 20 years old, Logic debuted his very first mix-tape, Young, Broke, and Infamous. In less than a year after the first release, Logic presented his second mix-tape, Young Sinatra, which gained him more popularity and exposure on platforms such YouTube in the hip-hop community. This second mix-tape also caught the attention of XXL Magazine. In 2012, Billboard named him "Next Big Sound", which meant that he was excelling at catching ears across the nation, simply through his YouTube videos and mix-tape series. The artist's path of recognition had only just begun.
Though his story may seem a great deal of events in such a small time span, Logic claims that this is not the peak of his career just yet. Noting just how far he's come, he does acknowledge the work of his team being among other factors for his success in the past year. "My manager, Chris Zarou, is the biggest part of all of this at the end of the day. All of these people who have been there for me and have helped me, they're all big pieces. You can be the most talented person in the world, but if nobody puts you out there–if nobody gives you the stage to perform–I think you'll never reach your full potential, so it all has to do with Chris."
Logic got his dream deal, signing with Def Jam Records on April 15, 2013. A long- awaited goal, Logic has managed to sign with a major label without the doubt of losing control over his creativity and how his songs are managed. He expressed his excitement over the huge achievement, "I love it. it's incredible because I got to do it the way that I wanted. You can say whatever you want to say, but I signed a contract that literally allows me to create whatever type of music that I want, whenever I want, however I want, and they give me a lot of money to do it. So for me, I got that perfect deal that I always wanted."
It is common to see the underdog rise in Hollywood sports films or sci-fi and heroic action movies. It is also common these days to hear a hip-hop artist claim this 'came from nothing' story to be their own, when rap audiences have learned that is not always the case. But Robert Bryson Hall's story is not scripted, nor was it edited to sell records. it was real. Under all of the circumstances that were pointing him in the direction of an almost certain downward spiral, Logic decided to make a major change from the dangerous pattern of his family's actions, and chose a higher path.
This decision has brought him happiness and passion for music while forcing him to grow with the responsibilities that come with success. "I feel like I have grown immensely. I truly believe that the only reason that I made it this far is because I'm doing my best to be grounded and doing my best to stay as humble as possible.", Logic claims. I don't do it for haters. I just do it for the love of hip-hop and for the people that actually enjoy [my music]. As far as I've gone–and am still–it's only based on me as a human being, as a person."
Logic will be joining Hip-Hop sensation Kid Cudi in "The Cud Life" tour, along with artists Big Sean and Tyler the Creator. According to HotNewHipHop.com, the tour debuts in San Diego Friday, September 6. This is sure to be the first of many nation-wide tours, for Robert Bryson Hall, a young man who found a light in his passion and used it to guide him out of a dangerous situation. Clearly not the average high school dropout, Logic has come a long way. From writing lyrics over black discs, to tours with some of Hip-Hop's most notable artists, Logic's story shows the world yet again that one can make themselves anything with hard work.