My engagement with mathematics and physics began in childhood. These subjects were not merely academic disciplines, but thrilling adventures that captivated my attention and imagination. This period of my life was also deeply influenced by my passion for video games. My trusty old computer and Nintendo DS were more than just electronic devices; they were gateways to endless realms of exploration.
Among the games that captivated me was Pokémon, a universe where players capture and train creatures for battle. What fascinated me the most about battles were their underlying mechanics—specifically the mathematical algorithms that determined the effectiveness of an attack. I found myself pondering over how the damage was calculated, what factors multiply power, and how probabilities affect moves. These in-game calculations and assessments acted as a real-world primer, igniting my curiosity about numbers, equations, and mathematical modeling.
My life took a significant turn when I moved from Venezuela to Brazil in 2016. Although the prospect of adapting to an entirely new environment was daunting, the linguistic similarities between Spanish and Portuguese smoothed my transition. But regardless of the country I was in, the love for numbers and the analytical thinking I developed through video games, remained constant, serving as the bedrock for my academic pursuits.
In Brazil, exceptional high school educators introduced me to mathematics and physics. Just as I applied the principles of physics to video games in my childhood, I also applied them to everyday scenarios. I pondered eccentric questions like, "what is the force required to move a 6-floor building around the equator in 16 seconds?" Although absurd, these inquiries were enjoyable mental exercises.
Life took another unexpected turn in 2019 when Venezuela's primary dam failed. The whole country experienced a blackout, and we were forced to leave. We settled in Maryland and I enrolled in Montgomery College. Initially, I grappled with English's differences from my native language. My enduring interest in physics, sparked during my Pokémon days, propelled me to not only master English but to also delve deeper into my passion. This resilience has proven invaluable in my scientific pursuits, where unwavering dedication is essential. As I think about pursuing a career as a physicist, I will never forget my childhood roots.
As a first step to the fulfillment of my aspirations, I interned at the National Institute of Standards and Technology (NIST) through the Professional Research Experience Program (PREP) with Montgomery College. This program has provided me with invaluable experiences, allowing me to collaborate with outstanding individuals like mentors Katelyn Goetz and Emily Bittle, who helped me navigate the world of research.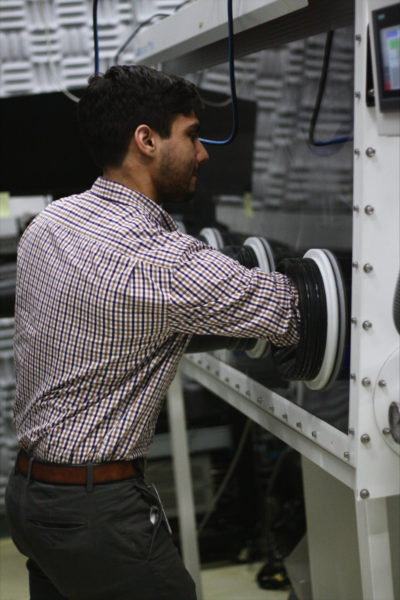 During my internship at NIST, we have been working with organic electronics, specifically with Organic Field Effect Transistors (OFETs). These transistors create an electric field when a voltage is applied to them, which can be used to control the flow of electricity. The main characteristic of OFETs is the use of organic semiconductors to transport electricity. This allows for the creation of flexible and lightweight devices, making them suitable for various applications like displays, sensors, and simple electronic circuits. According to my mentor, Katelyn Goetz, "our project can bring useful applications, such as optimization of solar cells by reducing thermal losses as well as possible quantum information applications."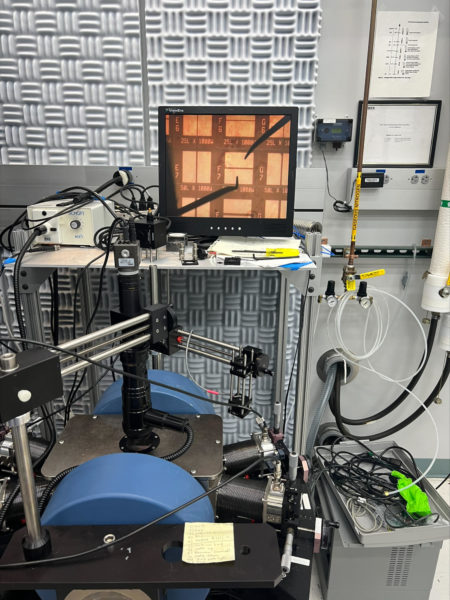 My mentors at NIST presented our work at the International Society for Optics and Photonics (SPIE) conference in San Diego, in 2023, where I was listed as a co-author, and they publicly acknowledged my participation.
The MC-NIST PREP Program granted me the chance to attend the International Society for Optics and Photonics (SPIE) conference in San Diego, held from August 20th to August 24th, 2023. I was nominated as a co-author by my mentors since they were presenting our work, and they publicly acknowledged my participation as well, which allowed me to become the first student to travel via the program.
The conference proved to be an invaluable experience. I was able to observe and learn about the newest innovations in Optics and Photonics, talk with other members of the scientific community, and learn about other scientific projects that were taking place.
At the conference, I was exposed to cutting-edge research, networking opportunities with field experts, and a chance to witness the broader impact of our work within the scientific community. I had the opportunity to explore other presentations and learn about different scientific projects. For example, I was able to attend one presentation about how some researchers from Wake Forest University were using classical and quantum light to do Spectroscopy, which is a technique used to study the interaction between light and matter. According to Dr. Ajay Ram, the presenter, "By harnessing both classical and quantum light, we've broken new ground in the field of spectroscopy. The fusion of these two approaches allows for ultra-sensitive measurements that open the door for unprecedented insights into the interactions between light and matter."
The diverse range of presentations and discussions further fueled my passion for research and strengthened my commitment to contribute meaningfully to the field of physics. This exposure has enriched my understanding and reinforced my determination to pursue excellence in scientific exploration and contribute meaningfully to the discipline.
At Montgomery College, it is possible to access a range of resources, mentors, and research experiences that provide a solid foundation for those who wish to delve into the world of scientific exploration. Science is constantly improving and moving forward each day, and it is normal in scientific conferences to observe many projects and technologies being presented. The MC-NIST PREP program is an amazing opportunity for students at MC to get started with their scientific careers.
Students who actively participate and immerse themselves in the program do not only gain valuable insights. They also contribute to the collective progress of science, helping to solve complex problems and make significant strides in various fields.