Frozen II: Not so Unknown Anymore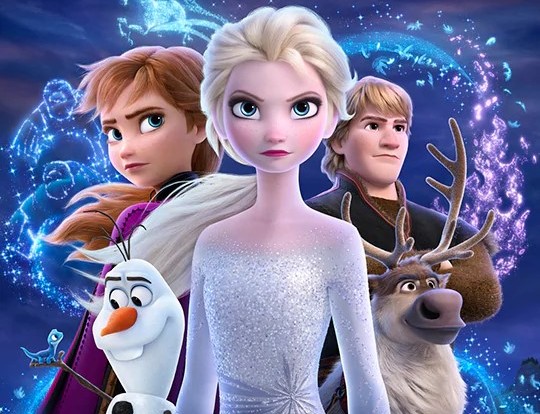 Frozen II is the latest installment in the Frozen Universe staring all the previous voice actors from the 2013 Frozen. In this film, we follow Elsa, Anna, Kristoff, Olaf and Sven, as they travel to an enchanted forest. They set out to find the origin of Elsa's powers, in order to save their kingdom and lift a spell that trapped people in a forest.
I never originally expected Frozen to become a multi-billion dollar thing much as it is today, so with a sequel out now, I was kind of nervous to see where this film would go. Now with "Let It Go" being one of the most overplayed songs on the radio, it mostly ruined the film for me since that's all I could think about when watching the first Frozen film. The first Frozen wasn't a bad Disney film, the voice actors are superb, the animation and materials are flawless, even for 2013, and the story was fine.
The sequel meanwhile isn't much of a smooth ride. There are character choices made at the end of the film where two characters are separated from each other. One of them makes a decision without consulting anyone, and that choice has drastic implications for many other people. Kristoff's character is trying to propose to Anna in the entire movie, and of course it's a bunch of cliches where he's trying to propose to her and she isn't aware of him trying to propose at all. His song, I think, is one of the weakest out of all the other songs in the film, which isn't much of an insult either because there are only two songs that really stood out in this film. Olaf also get a lot of screen time and he always gets on my nerves whenever he's on screen because of his voice and I can't really see him having any good character relationships with Anna or Elsa. Besides the amazing animation and visuals, another thing that stands out to me is Elsa's and Anna's relationship in the film. It's very charming and holds up really well. This is by no means a bad film, however it may be disappointing to some hardcore Frozen fans.