Ibeyi LIVE at the 9:30 Club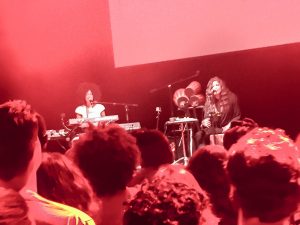 Transformative is the first word that comes to mind to describe Ibeyi's electric live show at the 9:30 Club in Washington D.C. on Sept. 30, 2015. Beautiful twin sisters Lisa Kainde and Naomi Diaz, the members of Ibeyi, have found themselves on the tip everybody's tongue, and it's not hard to see why. Their ethnic background of French, Cuban and Nigerian descent mixed with their modern gen y approach to percussion and lyrics feels like something you've never heard until now.
Opening with Eleggua, their album intro, Ibeyi made it very clear that they have cultivated a sound that is nothing short of unique. At first glance you're captured by their tribal yin and yang aesthetic. Lisa Kainde arrived on stage in a rather angelic white dress offset by a small collection of beaded tribal necklaces and her famous mane of huge, perfectly afro centric curls. Naomi Diaz's attire and vibe felt urban, tough, and dark while still cool and effortless.
Minus the help of a band, the sisters migrated around an assembly of different instruments recreating the layered, complex sound they've used to change the somewhat stagnant temperament of today's music scene.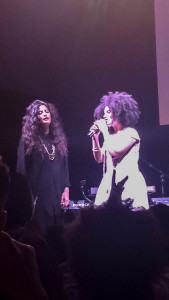 They easily divided their roles aiding and supporting each other by way of instruments or background vocals. Ibeyi performed every song from their self titled debut album, as well as one new song.
The highlight of their set may have been their cover of a Jay Electronica song, Better In Tune With The Infinite. Their show ended with an acoustic encore performance of their first major single, River, which felt more like rhythmic spoken word.
Not only was the Ibeyi concert an incredibly enjoyable experience, it was also somewhat eye opening. If you ask any of the audience who attended the packed show, without a doubt they'd be sure to tell you that they exited the venue as a different person than before.