Food Porn with James Chang: Picca Pollo
Picca: Pollo a la Brasa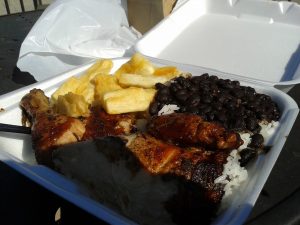 Montgomery County is loaded with dozens of Peruvian Chicken restaurants, all of which stand with their own personal army of loyalists. Top franchises include Sardis, Guapos, Pollo Rico, among many others, however Picca: Pollo a la Brasa might just be the restaurant to take chicken from the streets to the dining room with fine china.
Picca reigns over the Giant market plaza on Middlebrook Rd. in Germantown. It is the single standalone Peruvian chicken restaurant in the area.
Whilst most of the other Peruvian Chicken restaurants focus on take-out style business, Picca keeps that as a side perk while focusing on dine-in classiness. Though the take-out option is not a bad choice as they have a lunch special for a half chicken box set for $9.99 with two reasonably sized side dishes and a drink.
The menu contains the standard Peruvian dishes, likewise they provide a take-out option with reasonable prices. However, if you so choose to dine in with your family Picca will provide you with seating in a well lit and homely designed dining area. Once seated you are no longer in a simple Peruvian chicken restaurant that you would normally drop by with your friends, but in a Peruvian restaurant that you would take someone out to.
Appetizers, entrees, and drinks are available and will be set out accordingly as in any semi-formal sit in restaurant. The food comes on clean pre-heated plates along with silverware for everyone at the table. The signature Peruvian chicken sauces are presented in small sauce dishes as well as with spoons as if you won't be dipping the chicken directly into the sauce.
Although all the fancy accessories are available for you to feel posh and formal, it is still a Peruvian Chicken restaurant. I would suggest that you roll up your sleeves and have your napkins ready, because you may end up needing to get your hands dirty to finish off the chicken.
The fragrance of the chicken on its own will make your mouth water, you can tell that each single chicken is hand seasoned and carefully roasted in the charcoal grill. The chicken is always juicy and falls off the bone without being over or undercooked. Although many chicken restaurants fail to keep the white meat from getting dry when they cook it Picca manages to keep their chicken delicious and moist throughout white meat and dark. While the chicken on its own is good enough to make you want to order a whole chicken for yourself, the true flavor comes out when you break out the sauces.
The savory yet tangy amarillo sauce refreshes your pallet from the salty flavors of the chicken and makes you want to go back in. The cilantro sauce has a slight kick to it yet it retains its strong cilantro flavor that complements the savory taste of the Peruvian chicken. These sauces are great with chicken but are also good enough to add to any of the sides from the yucca to the fried rice.
The Yucca is fresh and stays hot and crispy on the outside while the inside is soft and delicious. The sauces truly compliment its simple yet amazing flavor. The rice and beans come together beautifully. The rice is soft and never dry while the beans are seasoned thoroughly with their signature Latin spices. Either side can hold its own in a fight however I recommend getting them together for the best experience.
Picca is the restaurant that took simple Peruvian chicken and cleaned it up enough to present in a suit. Although there are many Peruvian Chicken restaurants throughout Montgomery County you may wish to drop by this one if you want to have one for your favorite foods whilst on a date without being judged. Picca: Pollo a la Brasa translates to charcoal cooked chicken and it is rightfully named. Picca puts its pride in their chicken and I would say they have the best chicken in the county. Next time you go out with Peruvian chicken on your mind it should be synonymous to the name Picca.