Honk!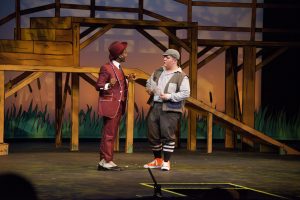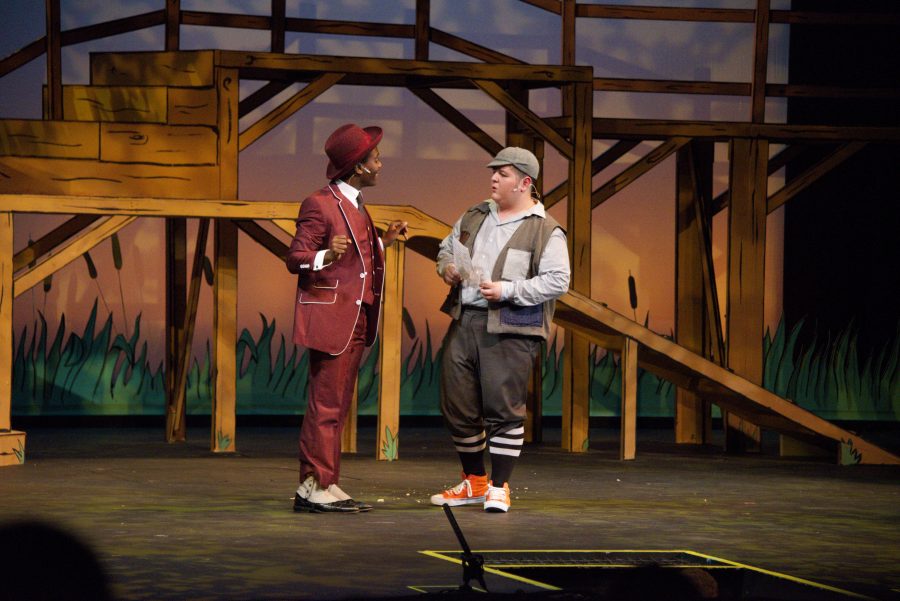 Come out and support Montgomery College's theatre departments' performance of the hilarious and well-crafted classic, Honk! The whole cast put on a high energy performance from the beginning to end.
MC's production had their opening night in Robert E. Parilla Performing Arts Center last night at 8 pm. The book and lyrics were written by Anthony Drewe and music by George Stills. Honk! is
a musical based on the classic tale, The Ugly Duckling by Hans Christian Andersen. The common theme of acceptance in the Ugly Duckling is of course portrayed in Honk! as well. Director Matt Bassett commented, "[Honk!] has a theme that still rings true through, continuing today in struggles against bullying and harsher forms of oppression".
The musical opens with Ida (Rachel Johnson) and her husband Drake (Jacob Meile) in the comfort of their home waiting for their offspring to hatch. Ida grows impatient for the eggs to
hatch. Ducklings Fluffy (Slava Yun), Downy (Kevin Ortiz-Arias), Beaky (Danie Rodriguez) and Billy (Wira Dwijai) hatch just in time. Soon after, Ugly (Jason Guerrero) hatches and he is automatically ostracized for being different.
Retrospectively, Ugly is coaxed by Cat (Solomon Parker) and as a result, Ugly gets lost and goes on a whirlwind of adventures and meets a collection of characters like Jaybird (Jon Rucker) and ultimately his crush, Penny (Zhane Bradford).
The acting and directing of the play was impeccable. The actors seemed believable and brought a great interpretation with their costumes.
The relationship between characters was natural. There was a true connection between Ida and Ugly. They shared moments on stage that allowed viewers to see a side of that relationship that really isn't properly explained in the book.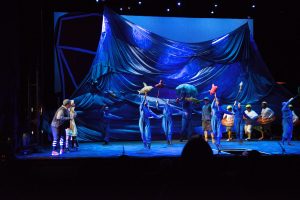 The vocal quality of the show was pleasantly surprising. In all of the numbers, there was a lot of movement but each character was able to stay articulate. The only point of criticism would be the volume of certain singers. During the number, "Look at Him", there were voices completely overtaken by other vocalists.
Along with the great vocal quality was the dancing. The dancing was one of the highlights of the musical. The interpretations of Uglys' first swim and the harsh winter weather were very engaging. All the movements were natural and appropriate to the characters.
The design elements were crucial in creating a correct mood for the entire musical. The set was simple considering the setting for the entire play was a duck yard and its immediate neighbors: marsh, shed and cottage. However, the set was perfectly designed for free movement yet the stage did not feel empty at all.
Each character was portrayed well through their costumes. Ugly was draped in brown rags while his other brothers were dressed in poppy yellows and oranges. Henrietta was dressed like an elegant woman which alluded to her being the communities most beautiful duck.