Masquerade At the Fold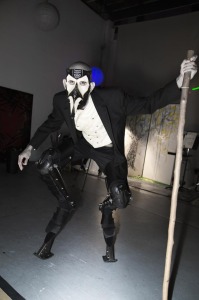 Friday night is a great opportunity for escapades, whether you venture somewhere new or revisit a familiar haunt. One event was a masquerade at a new venue called The Fold, which bares the name of the organization that runs it. It's a simple warehouse space that has been transformed into a kind of clubhouse; custom-built structures create foyer and a second floor, with a balcony overlooking an open space. The masquerade took place on Friday, September 12.
Alan Kayanan is Co-founder and Director of The Fold, and one of the driving forces behind the organization. Their mission is to foster the artistic community by providing it with something essential: "We believe that offering time and space will provide a critical and highly sought-after resource to local artists." They hope to provide membership, as one might belong to a gym, for access to a place for the artistic community to meet and work together.
Their vision shows great promise. The scene was filled with materials and examples of art, including the partygoers themselves: the scope of craft and imagination displayed was astonishing. A dancing crowd filled the space, while a woman painted enthusiastically on a wall-sized canvas, and the DJ played from the second floor.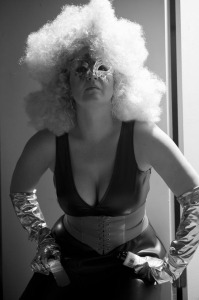 The Fold isn't quite finished yet; construction is still going on and it is still not open to the public, but Alan and his team hope to welcome new members in the coming spring. Despite it's unfinished state, this isn't the first such event they have hosted. This past spring saw everything from curated performances to potlucks, concerts, receptions, and a silent auction.
Keep your eyes open as there are sure to be more events in the future, it seems to be an excellent work and play-space for any artist or college student. The Fold promises to be a very interesting addition to the local scene.