Amidst Threat: Increased Security on Campus, Rockville City Police Investigating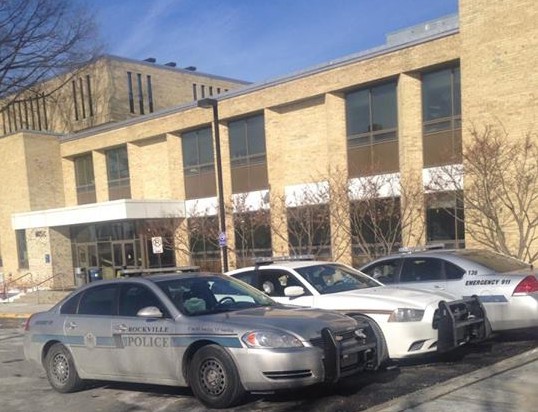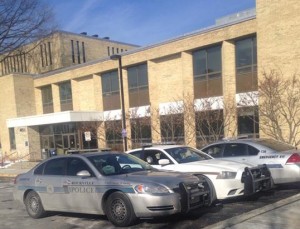 Reported to police on Feb. 24, an anonymous person posted a threat on the MC Rockville campus with a graffiti message that read "school shooting 3/5/14" on a stairwell wall in the Campus Center.
Montgomery College waited until February 28 to release a statement to the students, faculty, and staff to address the threat. Elizabeth Homan, Director of Communications for the college, explained why administration chose to delay sending the warning message to students.
"Because there were no specifics other than the date, it was important to make sure whatever measures being taken were consistent throughout all of our campuses."
Local police and campus security are aware of the situation and and are not only alert, but working with the other campuses and the local police in their respective jurisdictions.
"Our relationship with other agencies is an ongoing collaboration. Each of our campus[es] has a different police jurisdiction that responds to calls," Said Homan.
"Takoma park has specific police that respond to Takoma park, whereas the Rockville campus has Rockville City Police," Homan continues.
Whereabouts of authorities on campus and their longevity are being kept concealed in an effort to maintain a secure status of safety.
"At this point, nobody has been identified or charged with anything, but Rockville City Police are investigating," Said Homan "We're looking to our college community to give security a call if they see anything suspicious."
In the wake of an emergency, Montgomery College urges all students, faculty, and staff to sign up for the text alerts provided by the school.
Signing up is easy, just by clicking the link, creating a username, and giving your name, e-mail, or cell phone number, then selecting the "Montgomery College ALERT." You can instantly have notifications sent to you cell phone or email account.
*********
UPDATE on Threatening Shooting Message Found at Rockville 3/5/14 10:07am

"Since receiving the collegewide communication last Friday and hearing news reports, many in our College community—faculty, staff, and students—are concerned and worried about the threatening message found at the Rockville Campus. I understand. The message "school shooting 3/5/14" was troubling, and that is why our College security offices notified the Rockville City Police Department immediately. It also is why we reached out to the Montgomery County Police Department and the Maryland Center for School Safety, and why we sent a message to the entire College community. We wanted to inform everyone and share our plan that ensures Montgomery College continues to be a safe and secure place to learn.
Montgomery College is working closely with all of our police partners, who are supporting and assisting our security offices and other security agencies. In fact, you may notice an increased security and police presence.
At the same time, I recognize that the information about the threatening message and the news reports may be unsettling. Be supportive of one another and understand that everyone handles situations like these differently. Please tell any students who may need assistance to reach out to faculty counselors on their campus. If employees need counseling, they should be in touch with the Faculty Staff Assistance Program, which is a confidential program and free benefit available through the College, at 1-800-935-9551.
After conferring with senior leaders, I have been asked to encourage faculty to be flexible about attendance but to expect that work will be completed and/or made up. In addition, I am told that the College is asking supervisors to be flexible with employees, who may be granted administrative leave.
Campuses are staffed with security officers 24 hours a day, seven days a week, but I continue to ask for your support in keeping our College safe and secure. As we shared in our earlier memos about the threatening graffiti at the Rockville and Germantown campuses, there are several steps you can take.
·         Report suspicious or concerning behavior immediately to the Office of Safety and Security. If you see something, say something.
·         Know the number for the Office of Safety and Security for your campus or location. Consider programming the number into your cell phone or your office phone.

o   Germantown Campus and Gaithersburg Business Training Center

240-567-7777
o   Rockville Campus, 40 West Gude, and the Office of Information Technology Building

240-567-5111
o   Takoma Park/Silver Spring Campus and Westfield South

240-567-1600
Thank you for patience, support, and commitment to safety and security."