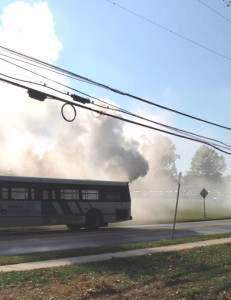 On Tuesday, October 29th at approximately 1:15 pm a bus began emitting smoke and produced a loud bang right in front of Montgomery College on Mannakee street as students stood by and watched.  No one with the exception of the driver was on the bus, and luckily no one was injured in this unexpected incident.
The bus slowed to a stop, spewing and billowing black diesel smoke. A few seconds later, a bang went off – loud enough to alert security posted in front of the Art Building to come running over to check out the scene.
According to Rockville Volunteer Fire Department's Lieutenant Hageman, the bus started malfunctioning as a result of "mechanical failure due to hydraulics." Only the Ride-On bus operator and the mechanic were left on the scene. There was no active fire on the bus according to Hageman.
Students watched from the opposite side of the street as the bus pulled to a stop. The aforementioned driver and mechanic, along with the fire department, continued to sort out the issues. Everything was handled in accordance with proper protocol Hageman reported.
According to Montgomery College security officer, Jeff Wilkson, "[The bus] was off campus so we didn't send anyone." Wilson continued to say that if there had been an actual fire security would have been sent over to keep students safe forthwith.