Get That Phone, It's the Weather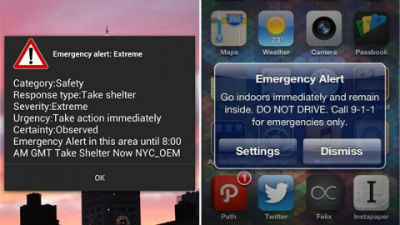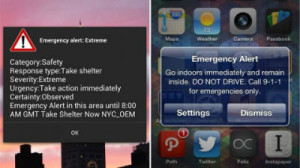 (Photo Credit: FEMA.gov)
If you were on campus last Thursday afternoon when the thunderstorms came, then you know how severe they were.  Power outages closed the Germantown branch for that evening and the next full day.  While both Rockville and Takoma Park/Silver Spring campuses remained open, faculty and students had a hard time getting home and to work, thanks to the weather.  Did you know that it was coming?  A Wireless Emergency Alert (WEA) from your phone may have let you know.
WEAs are brought to you by the Commercial Mobile Alert System (CMAS), a joint venture of the Federal Emergency Management Agency (FEMA), the Federal Communications Commission (FCC), and wireless carriers.
Last year, these carriers were required to have WEA capabilities in its new hardware.  It's a technology that puts the federal government's Integrated Public Alert and Warning System (IPAWS) through to you, and it can save lives.  Emergency agencies transmit IPAWS messages, and you receive them in the form of WEAs from your phone.  Most of these will come from the National Weather Service about dangerous weather patterns in your area. When children and the elderly are reported missing, amber alerts can also be transmitted.
The MC student next to you may already already know about this technology.  Broadcasting from the Technical Center at the Rockville branch, disc jockeys at eRadio WMCR read announcements about these emergency alerts between song sets.  Word is continuing to be spread, thanks to Carlos Sanchez, new Public Safety Training Officer for the Office of Public Safety and Emergency Management.  Educating the campuses about WEAs ranks high on his to-do list.
How do you know when you're receiving a WEA?  When an IPAWS message is sent, and your phone generates a tone and vibrates while the emergency message is displayed.
While you can go into your settings and disable this function on your phone, maybe refrain.  Doesn't that defeat the purpose of an alert?
"It is a new technology which may save lives," insists Sanchez.
Though you may not think about this alert system again until the next natural disaster or dangerous storm, saving lives is a realistic result of this relatively new alert system, and any time one could be protected from natural harm, it's a worthwhile concept.