New Student Service Center Building will be Opening in June 2020.
Montgomery College is building the new Student Service Center, which will provide a centralized location for all student services at the Rockville Campus. The building is said to open its doors June 2020. According to college sources today's biggest challenge at the Rockville campus is that all major services are located in different areas. Putting the most visited services in one place will help students locate these services, officials said.
The building will accommodate students with comfortable access to the most commonly visited services such as admissions, counselling, Welcome Center, financial aid, disability support services, veterans' services and student life, among others.
The Student Services Center is being built with support from the state and the county this building will cost $75 million.
It was designed by Cho Benn Holback + Associates, a Quinn Evans Company. The general contractor for the project is Grunley Construction Company, Inc.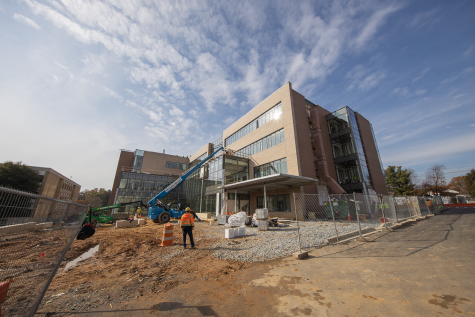 Mark Nook, Principal Architect of the new Student Service Center, shared the same concern as the rest of Montgomery College staff. He said, "currently all these student services are spread throughout campus and now they will all be under one roof." Nook also gave some insight into the design, expressing that the facility will allow students more comfortable assistance and complete guidance toward there new college future. He said, "It will be a one stop shop for students with the added amenity of a coffee shop and student organizations. There will be classrooms and some administration offices, but mostly it will house every student service located on campus."
Darryl Misher, Welcome Center student specialist, who has been part of Montgomery College for the last 16 years expressed his excitement for the new building. He said, "This will help students, and they will not run around campus. We are all about serving students here at Montgomery College."
Misher explained that the disadvantages of having all significant services in different areas are making students frustrated. He said, "They come to the Welcome Center to register for classes, and they find out they have an address hold. So they have to cross all the parking lot to submit a form to the Admissions Office to then come back to us again." He added that this might increase enrollment because it has been down for the last year.