Making an Impression on Young Artists
Professor John Carr of the MC art department hand-picked the pieces in a national printmaking exhibition at Montgomery College to "celebrate the continued vitality, diversity and validity of printmaking as a fine art medium and relevant form of expression in the 21st century." This exhibition shows the modern relevance of a traditional art form.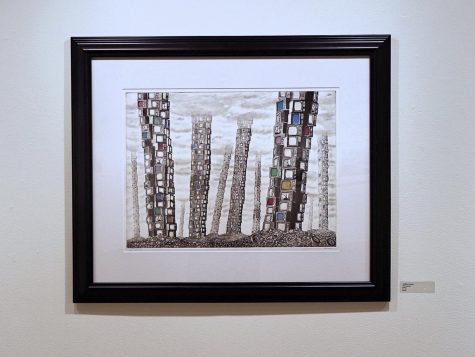 The exhibit generated considerable student interest in taking the printmaking courses offered at MC, including courses in Intaglio, Lithography, and Relief printing. "We included a variety of Printmaking medium so that students could experience the different visual qualities of particular mediums," said Professor Carr.
The exhibit also featured works by artists outside the MC community. Two of the artists, M. Alexander Gray and Dongyan Xu, spoke about their work at the exhibition opening.
Dongyan Xu, a student at Maryland Institute College of Art, said that printmaking holds personal significance for her as a way to relieve her depression and anxiety.
Her piece in the exhibition, shown below: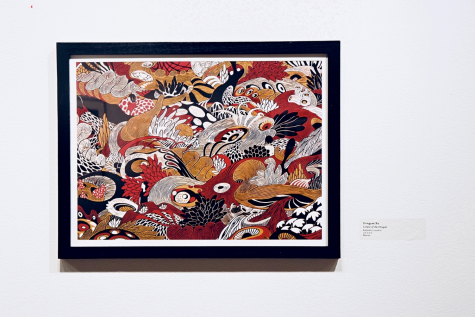 is titled Corpse of the Dragon. "The work is based on my confusion and frustration of the social-political environment I grow up in," she said.
Because "multiple copies can be produced from one block, prints are often more accessible to the public while they still have a better quality compared to digital prints," said Xu, citing one reason this ancient art form is still relevant today.
Artist M. Alexander Gray said he worked on his engraved piece, Byrd Creek Aqueduct, over the course of two years.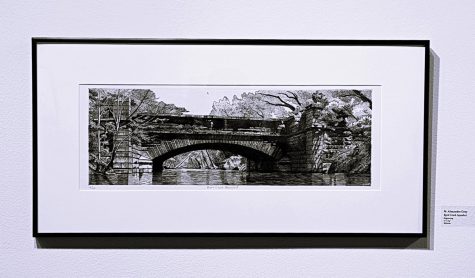 "I think printmaking is relevant because it reminds when individual craftsmanship was more valued than it is today. In today's world it requires zero effort to create and reproduce an image," said Gray. "For my own part, I do it partially as a contrast to the quick-and-easy, 'anything goes' nature of contemporary art and art education."
In his talk at the opening, Gray shared the story of how he pursued the laborious art form of engraving despite discouragement from his printmaking professor, who told him it was "too hard" and "too different from drawing."
"I hope the students will pursue their artistic goals regardless of discouraging moments along the way," said Gray.
Selected printmaking pieces were on display in the Sarah Silberman Art Gallery from Jan 23 to Feb 16. This was the second printmaking exhibition at the MC Rockville campus.
Leave a Comment