The World Stands With Puerto Rico Fashion Show Promo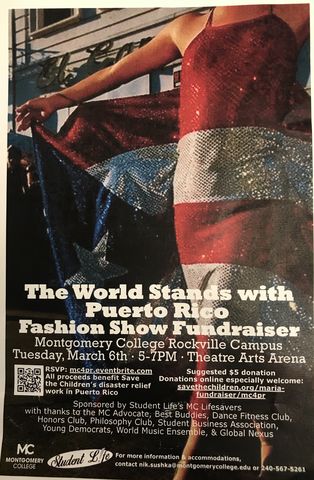 Since hurricane Maria left its mark on Puerto Rico in September of 2017, the people of the state have suffered hunger, loss, homelessness, and trauma. What a tragic incident that no one should have to experience. As students, there is only so much we can do. That does not mean we can do nothing! In the light of that fact, some students at Montgomery College Rockville Campus are organizing a Puerto Rican Fashion show to raise money for the victims of Hurricane Maria.
The mastermind behind this brilliant plan is Miriam Tekie – a student at Montgomery College. She started working on this project in Fall of 2017. She knew that she could not do it alone, so she teamed up with the MC Advocate and Global Nexus to help promote this event. She also invited the Best Buddies, Dance Fitness, Honors, Philosophy, Student Business, and Young Democrats clubs to assist her with organizing this event. It is set to be on Tuesday, March 6 from 5 to 7 p.m. at the Theatre Arts Arena. For entertainment, there will, of course, be a number of models showcasing their traditional/casual apparel. Also, there will be exceptionally talented guitarists and musicians performing that evening. Who, you ask? You'll just have to go and see for yourself. This might be the greatest event this semester. You cannot afford to miss it!
Leave a Comment