Come Together Right Now Event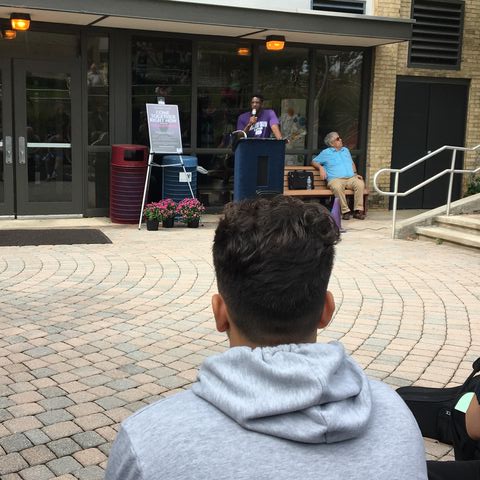 Montgomery College's Rockville campus held its "Come Together Right Now: Resisting Hate" Event on Sept. 18th in honor of Heather Heyer and other civil rights activists who have suffered and sacrificed.
Heyer was a 32-year-old woman who died counter-protesting the Alt-right and neo-Nazis in Charlottesville, Virginia this past month when officials say an Alt-right member drove his car into a crowd of counter-protesters.
The event, moderated by Professor Howard Feinstein, began with a brief moment of silence for Heyer and other civil rights martyrs. The crowd of students and faculty alike listened closely to the event speakers such as Dr. Alonzo Smith, both a history and political science professor, who encouraged students to use their education to fight intolerance and injustice.
The wise words of Professor Barry Thomas were also resounding when he spoke of people who wanted to deport certain marginalized groups, "Back to their countries, back into the cotton fields, back into the closet, back to the reservation and back to the kitchen." And how we need to stop them in their tracks.
Pearl Andrieu, a student speaker who's from West Africa, spoke of her tumultuous experience obtaining a green card and becoming a permanent resident of the US to achieve her dream of an education that would allow her to return to her native country one day and make a difference there with the education she achieved in the United States. "Although it's hard sometimes," she spoke, "I always feel like MC is my home, and that my professors and faculty are here to help and protect me."
The Advocate's own Samory Senh and president of the Honors Club here at MC's Rockville campus gave a brave account of his own experiences with racism and discrimination throughout his life and how he developed the courage to address injustice valiantly, and how he encourages others to do the same. "When you see something that not right, don't ignore it. Scream and shout as loud as you can."
Professor Tulin Levitas, an ethics, philosophy and women's studies professor as well as a Turkish native, gave a chilling firsthand recount of what can happen when both oppression and injustice are left to grow and fester. "Each individual's interests are equally important." she said of learning to become unified and continuing to fervently speak against injustice in any way you can, adding also, "We need to do something about the silencing of our women."
Thiago Peregrino, another student at MC originally from Brazil, gave his own testimony of discrimination and racism, adding hopefully and profoundly at the end of his speech, "I hope one day I'm giving a speech somewhere talking about discrimination and people say, 'Wow, that must have been a long time ago.'"
Professor Sara Ducey, director of the Paul Peck Institute, gave a beautiful recitation of "Him" by Sherman Alexi and closing the event was Dr. Loraine Hutchins, co-founder of MC Allies, leading the crown in an electrifying rendition of a hymn.
Leave a Comment