(It's now well documented on our site that four Advocate staff members went to Baltimore to cover the protest. While pursuing this beat, we each had several unique takes, but came to some unanimous agreements on the experience's value. This is a summary of those opinions) -Alex Mallett, EIC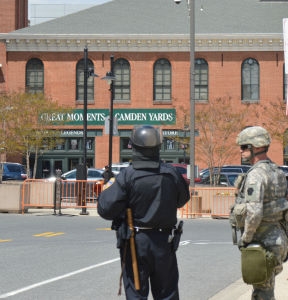 After watching continuous news coverage of the protests, I expected burning buildings, tear gas, and angry rioters attacking looking for a fight. Walking through the streets of Baltimore, there were no burning buildings. There was no tear gas.
There were no rioters attacking innocent bystanders or police officers. There was a peaceful demonstration of protest. A call on justice for Freddie Gray, the young man who passed away due to a spinal injury after a confrontation with police that occurred during his arrest.
Men, women, and children walking through the streets with their hands raised in protest shouting the constant, concise phrase "hands up, don't shoot."
The description of Baltimore as a chaotic wasteland where rioters and looters took advantage of the collapse of a city was not at all the case, at least when we were there. The heavy presence of National Guard convoys, troops, and humvees scattered about the entire downtown harbor area seemed like overkill, especially in the calmer tourist areas.
On the way up I-95 into the city, we read via CBS Baltimore's twitter feed about stones and broken bottles being thrown at police officers. CBS also reported the arrest totals had hit 235 at the time, including 34 juveniles. We didn't know what to expect, but we were prepared to walk into occupied territory.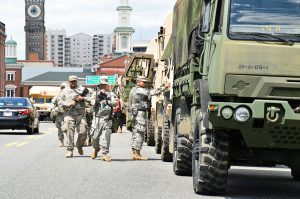 Although we were ready for anything due to watching the CNN videos on loop the night before, we did experienced what we all agreed was a culture shock right as we got off the beltway. A full convoy of National Guard troops (above), armed with machine guns and riot shields, marched in an organized fashion up Pratt Street toward Camden Yards. It was unlike anything we'd ever seen. Downtown, touristy Baltimore Harbor had been overtaken by U.S. Military. I've never felt more safe and scared at the same time.
Making our way through the deeper parts of east Baltimore, we saw members of the 300men (below) organization, one of many groups actively protesting in the city, walking down the streets.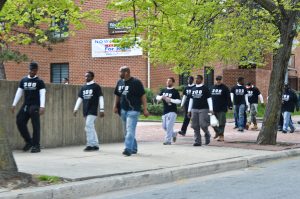 We passed some of the wreckage from the previous night's riots. A demolished ATM, ripped out of the side of a brick building, scorched street signs, and marks of fire damage in the streets were just some of the rioting damage. When we finally reached the intersection of Pennsylvania Ave. and W. North Street, there stood a collective group of protestors (we estimated the crowd at a few hundred people) as the intersection was blocked off with cones and traffic officers.
Showing our press credentials, we managed to work through the traffic directors and parked what seemed to be off at the side of the commotion (not realizing until much later that we were essentially parked in the middle of the protests).
Instead of violence against law enforcement, which had been well documented and shown on a loop via most news networks, there were instead lines of Baltimore natives–members of the surrounding neighborhoods, african-american group leaders, etc.–locking arms with one another to protect the line of riot police. The parallel line formation was symbolic of the overall movement, which was mostly peaceful, clear, and passionate.
Once we felt we had enough from a photography standpoint to truly convey the experience of being in the middle of the protests, we started interviewing some of the citizens in the march. Fredy Lemus, a Baltimore citizen who has lived at the intersection of North and Penn. streets his entire life, explained how he impacts youth members of his neighborhood through an entrepreneurial program he founded.
A woman was passing out ice cream to youth at the protests. Priests and group leaders were shouting for justice via microphones and speakers through the streets. It was all more organized than anything we anticipated.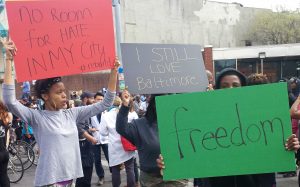 I speak on behalf of the entire crew who covered this beat when I say it was truly rewarding just to be there.The startling contrast between the normal Baltimore harbor sites and the large groups of almost mirage-like presence of National Guard forces near the aquarium, restaurants, and attractions were certainly surreal. To have something of such significant historical events take place so close to home was unlike anything we had experienced as young journalists.
What's more, I really think people should further separate the distinction between what we call "protests" and what we refer to as a "riot." Walking the streets of the recently riot-plagued areas in Baltimore, I had several encounters with protesters. These people were angrier at the rioters who came out after dark to loot, destroy property, and cause havoc than they were at law enforcement or any troopers.
To me, that says it all. The problem the protesters have with the city is now twofold–firstly, they sought justice for Freddie Gray's death, and now they have to live with the stigma of the rioters untied to their cause.
It's not wise, nor is it my intention to make these issues so cut-and-dry, but while covering the organized, purposeful, powerful protests on W. North and Penn. Ave, it really did seem as though the sensible protests occur during the day and late afternoon, whereas the mayhem of the riots takes place after dark, with far less of a just cause. Talking to the protesters really clarified that distinction of the two terms.