Music Professor and Cellist Dawn Avery performs new album "50 Shades of Red" at MC's World Arts Festival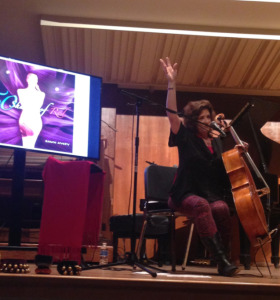 On Wednesday Nov. 5, music professor, composer, cellist, and vocalist Dawn Avery performed her new album "50 Shades of Red" at the Music Recital Hall.
Avery is the producer of MC's World Arts Festival, which is a yearlong celebration of music, dance, literature and other forms of art from around the world. She teaches World Music at the Rockville campus on top of conducting the MC World Ensemble and teaching cello and composition lessons.
Before her newest album "50 Shades of Red," Avery created musical pieces intended for meditation, yoga, and ecstatic dance.
Being of Kanienkeha, or Mohawk descent, Avery's songs from the album incorporate both the Mohawk and English language.
In a multimedia performance, Avery accompanied her pieces with various video clips, and dancers.
She even engaged the audience by asking volunteers to come up and play instruments as she performed.
Intended to stir a feeling of love and passion, Avery illustrated these feelings as she performed, creating a sacred space with her music through her captivating cello lines, mesmerizing voice, and powerful lyrics.
Interested in finding out more?
Here's her website: http://www.dawnavery.com/
link to her YouTube page: https://www.youtube.com/channel/UCGxI0naRXcKstQc58V6j-2w