Freshmen's Tips & Tricks From The Advocate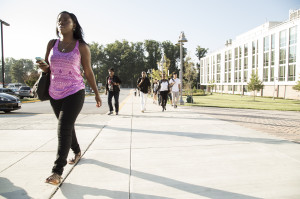 Attending a new school or going to a new place can be nerve-wracking. Knowing this, the staff members at the Advocate compiled a list of things you can keep in mind when beginning your new classes:
Books that are recommended are not required. Don't buy them unless you really think you will use them.
If you already bought your book, do not unwrap it until you know the professor will make you read it. You can always return unwrapped books.
Talk to a counselor. If you're anything but General Studies, try to get a counselor/advisor that is more specific to your major.
In the first few days of class, try to find study partners. Get people's numbers, Facebook names, etc. They're an incredibly useful resource. You don't want to wait until you need their help to get their number.
There's an entire program to help freshmen; it's called First Year Experience (FYE). They're a great resource, check them out at www.montgomerycollege.edu/fye
Show up to your classes. Unlike high school, no one will chase you down to show up. However, a lot of the teachers take attendance and will fail you if you don't show up to a certain amount of classes, or even if you're late a few times.
Use the student learning center; Room 015 in the CC building. You can get tutoring in various things, like math and english.
If you feel like you need an extension, ask the professor in advance. You're unlikely to get one the day before something is due.
Email the professors with questions, but if you can ask a student, take the load off of your professor and ask the student instead.
Study groups are great if you can find a group of people who can stay focused.
Join a club or organization. This is a great way to make friends, as it introduces you to people who have similar interests as you.
Can't find a club you're into? Start one. Check out the office of student life. It's downstairs in the CC Building, rooms 005-011.
The Office of Student Life constantly has events planned and going on; check them out.
If you feel the need to drop a class, make sure you know the deadlines. There are three different deadlines. For the classes that started this week, they are::
Getting a refund: September 1st
No refund, but the class doesn't show up on your transcript: September 15th
No refund, no grade, but the class shows up as dropped: November 10th
If you want to check your specific courses, you can find the directions here: http://cms.montgomerycollege.edu/edu/department2.aspx?id=20086