Felix Pitre dishes up 'Songs and Stories from Latin America'
At 11:00 a.m. on Saturday, Oct. 21, Felix Pitre carried out a performance called "Songs and Stories from Latin America." The objective of this presentation was to teach children about certain instruments from Latin America, and by doing so, help them to understand the history and culture of this diverse region.
Although I arrived late to the performance, I saw Pitre perform a version of the popular Cuban song "Guantanamera" and the famous Mexican song "Cielito Lindo" on his guitar. While he was playing guitar and singing, Pitre urged the younger audience members to take up a number of percussion instruments to help him keep the beat. Pitre put a unique spin on both of these songs by first singing them in Spanish and following it up with the English version. With his beloved Martin acoustic guitar, he bade the audience to sing along, and he instructed the children present to move their hips to the rhythm of Latin music.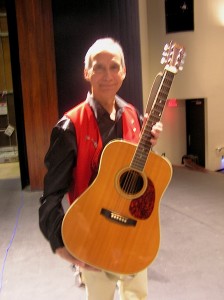 Most of the younger audience members ended up playing percussion instruments from Latin America. Pitre wanted to introduce the children in the crowd to various tools that might have been outside of the United States' musical spectrum. Among these instruments were an inedible plant called a Guiro, which was fashioned into a percussion instrument by the Taino Indians of Puerto Rico; a Guira, which was originally an oil can, but was later shaped with holes; and a Pandero, a Puerto Rican drum which was often used to musically narrate current events that took place on the island.
The performance itself lasted an hour and some change, and afterwards, Pitre agreed to answer a few questions for me.
Pitre, who has been doing this since 1974, said, "Sometimes, you'll be at the Kennedy Center, and you'll be in front of a crowd of 5,000 people. Other times, you'll show up at a public library, and there will only be 15 or so people in your audience."
Despite the fluctuating number of audience members, Pitre remains undeterred. He brandished his Martin acoustic guitar, coated with stickers from all of the schools he's visited, and performed without pause.
I asked Pitre why he had decided to come out and promote these songs. "The objective is to teach young kids about the music and culture of Latin America," Pitre responded. He seemed confident about the cultural good that his music and stories were doing.
Felix Pitre travels around the country teaching kids about the culture and richness of Latin America. He has written down a number of popular Latin American stories in book format suitable for children, and he intends to go on performing with his guitar in order to share the experiences he has seen and heard of. He has also recorded some songs on CD format.
Pitre can be contacted through his website, felixpitre.com.
Gallery