¡Azúcar! Women's Day: Celia Cruz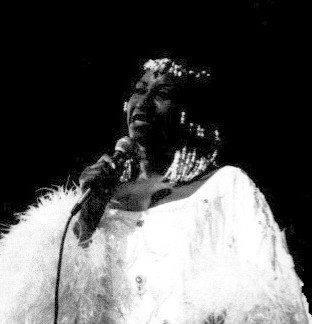 Happy International Women's Day! We're going to be talking about "Queen of Salsa" Celia Cruz. She was born as Úrsula Hilaria Celia Caridad Cruz Alfonso on Oct. 21, 1925, in Havana, Cuba.
Cruz had always been drawn to music as she would sing to her siblings so they could sleep at night and sing at school productions and community gatherings, according to a website about her.
Cruz's father wanted her to become a teacher but instead, she chose to continue pursuing her singing career by competing in many radio contests.
]"I have fulfilled my father's wish to be a teacher as, through my music, I teach generations of people about my culture and the happiness that is found in just living life. As a performer, I want people to feel their hearts sing and their spirits soar." Cruz said in a 1997 interview.
In the late 1940s, she won a contest of "Hora del Té" (The Hour of Tea) which helped increase her fame as a singer.
In 1950, Cruz received an opportunity of a lifetime after La Sonora Matancera's lead singer Myrta Silva left the group and they needed a replacement. Cruz auditioned for the spot—and soon enough she became the new lead singer for La Sonora.
During the Cuban Revolution, La Sonora was touring in Mexico when Fidel Castro took control of Cuba.
As a result, Castro forbid Cruz and her husband Pedro Knight from ever coming back to Cuba.
She tried to return when her mother died in 1962, but was denied by Cuba's government.
Soon she joined with Tito Puente to create more music but soon joined Johnny Pacheco to create the album "Celia y Johnny." From this album, "Quimbará" became a signature hit for Cruz.
Soon, Cruz began a solo career which in turn made her become one of the most famous Latin singers of the 20th century. With songs such as "La Negra Tiene Tumbao," "La Vida Es Un Carnaval," "Yo Viviré,"
"Guantanamera" and her signature phrase "¡Azúcar!" gave her the title of "The Queen of Salsa."
She passed away on July 16, 2003, at Fort Lee, New Jersey due to brain cancer. She left a deep hole in the Latin music industry. However, this did not stop her legacy from being passed down from generation to generation.
Nearly 16 years after we lost this wonderful, pure, and amazing person, people continue to sing, dance, and enjoy her music during their free time or even at parties.
And as Cruz would always say, "¡Azúcar!"
Leave a Comment