March for Our Lives- The Demand for Gun Safety comes knocking at Washington's Door
On Mar. 25, Montgomery College students and faculty joined hundreds of others at the Silver Spring Civic Center, boarding buses bound for Pennsylvania Ave to accompany over 200,000 people to tell our lawmakers that #EnoughIsEnough. The march was organized by the students of Stoneman Douglas High school in Parkland, Florida where just over a month ago a teenage gunman opened fire on his classmates and faculty murdering 17 and injuring over a dozen more. Although several sister marches took place across the country, it was Washington DC that hosted the capital march that sought to demand stricter gun laws and put an end to mass shootings.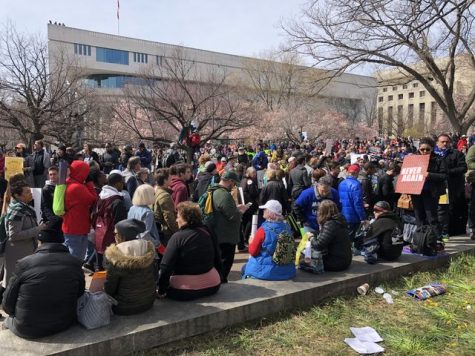 The march was full of those alike and unalike, the old, the young, black, white, men and women as well as a handful of celebrities who crossed the country to support the cause. In attendance was Kim Kardashian, Kanye West, Joan Smalls, Zendaya, Selena Gomez and dozens more including a handful of celebrity performers like Ariana Grande, Demi Lovato, Selena Gomez and Jennifer Hudson who performed a fitting rendition of Bob Dylan's "The Times They Are A-Changing".
From Union Station through downtown to Pennsylvania Ave where blocks of streets had been closed, marchers brandished signs that expressed feelings of discontent and frustration with the stagnancy of lawmakers who have struggled to enact any type of effective gun legislation since the Columbine Shooting of 1999.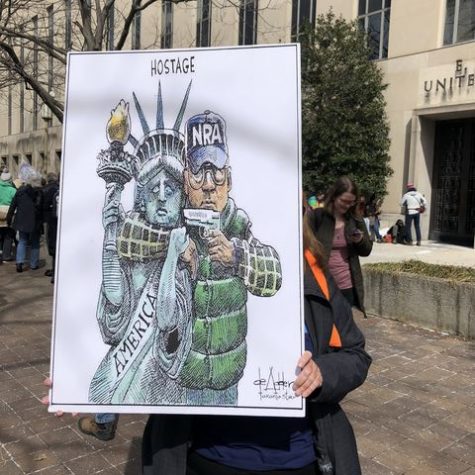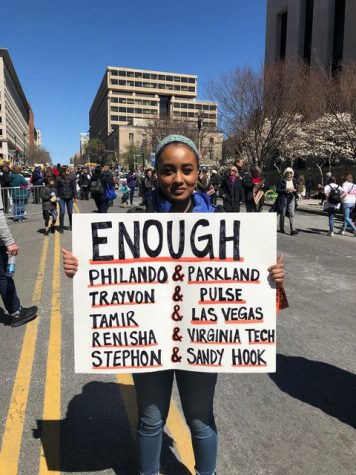 For the past 20 years, mass shootings have become gradually more frequent with less time between each massacre. Columbine was followed by another school shooting at Virginia Tech in 2007 and just two short years later by the Fort Hood shooting in 2009 that claimed the lives of 15. The massacre of Aurora, Colorado in a Century 16 movie theater during the premiere of Dark Knight Rises resulted in the loss 12 lives. The Navy Yard shooting of 2013 and another shooting in Fort Hood in 2014 occurred less than a year apart. In 2015, the deaths by gun violence saw a terrifying spike with the Charleston church shooting, the San Bernardino shooting and a shooting in Chattanooga that claimed six lives to name just a few. Not even a year ago news of the deadliest mass shooting in US history rocked the nation with nearly 60 people dead and nearly 900 injured when a gunman opened fire on a concert crowd from an adjacent hotel window with a military grade semi-automatic weapon. Without even a month to digest the tragic loss in Las Vegas, another massacre in Sutherland Springs horrified the nation with the deaths of nearly 30 including a pregnant woman, several young children, and a pastor. Great Mills High School in Maryland was not even a month ago terrorized by gun violence when a young teenager entered the school armed with a gun he stole from his father to execute his ex-girlfriend who died from her wounds days later.
This 20 year period saw a disgusting and unprecedented surge in mass death by gun violence, not to mention the thousands of individual deaths by gun violence scattered throughout the country that never made headlines or garnered nationwide attention.
But perhaps the most horrifying instance of loss due to gun violence occurred in 2012 in the small, quiet town of Newtown, Connecticut. It is a story we are all horrified to be familiar with—when a gunman entered Sandy Hook Elementary School and shot 20 first graders and 6 faculty members point blank after murdering his own mother that same morning before following the same morning.
We were a nation defeated after Sandy Hook, or at least that's how it seemed. Our hearts heavy bearing witness to the hideous deaths of the most innocent—deaths that seemed so…preventable.
So why so little change? According to Giffords Law Center to Prevent Gun Violence, at the state level, 21 gun laws have been passed in efforts to enact more effective gun safety. A handful of states saw background checks be implemented where there were none before and this small bout of gun safety laws also saw background checks be expanded in states where they already existed. Despite this, the majority of US States still have no type of mandatory background check for purchasing a gun at all and despite some momentum at the state level, gun reform at the federal level has virtually been non-existent.
In attendance at the March for Our Lives were a handful of Newtown community members, many of whom had experienced loss from the Sandy Hook Shooting. They stood in solidarity with the Parkland students and other marchers in their fight to end gun violence. Matthew Soto, the brother of Sandy Hook victim Victoria Soto, took the stage to express his deepest unanimity with the crowd of gun safety advocates. "Newtown says enough," he affirmed.
Yolanda Renee King, 9 year-old granddaughter of Martin Luther King Jr, took the united with the stage, the shadow of her activist grandfather looming proudly behind her announced that "My grandfather had a dream that his four little children would not be judged by the color of their skin, but the content of their character. I have a dream that enough is enough. That this should be a gun-free world. Period." The spirit of her grandfather channeled abundantly through her tiny posture. "Spread the word. Have you heard? All across the nation. We… are going to be. A great generation." she chanted, the voices of the crowd booming after her.
A video message from one of the most notable young activist, Malala Yousafzai, a victim of gun violence herself, appeared on the screen as she expressed her profound pride and solidarity for the marchers, "Today you march because you too are witnesses…to every friend you have who lost a loved one or sister or brother, my heart is with you."
11-year-old Naomi Wadler graced the voice to bring to the surface of the gun control conversation a subject that has been long undermined and overlooked. "I am here to acknowledge and represent the African American girls whose stories don't make the front page of every national newspaper, whose stories don't lead on the evening news," Wadler said. "I represent the African American women who are victims of gun violence, who are simply statistics instead of vibrant, beautiful girls full of potential. For far too long, these names, these black girls, and women have been just numbers…I'm here to say 'Never again' for those girls, too."
Trevon Bosley, a Chicago native who lost his brother to gun violence, attested to the other side of gun violence that people may not see- the violence that doesn't reach news stations across the nation or appear on the front page of newspaper, but violence that is very real and needs to be a part of the conversation for gun safety.
Many marchers used their signs and posters to express their own personal interpretation of what gun safety, #EnoughIsEnough, and #NeverAgain truly mean to them.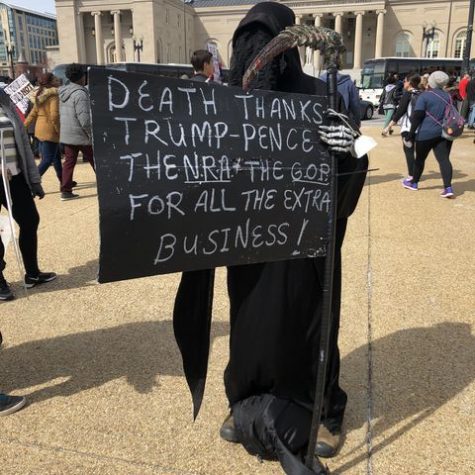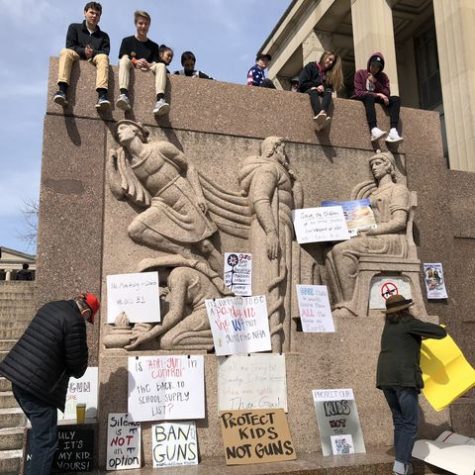 Police brutality seemed to be a running theme among the thoughtfully decorated papers and posters. Not to be left out of the conversation about gun violence, many marchers had posters that bore the names and stories of black victims of police brutality.
Other posters demonstrated thoughtful illustrations of the danger guns have brought to a country that brandishes it progressiveness like a flag, like this one of Lady Liberty being held hostage by an armed NRA member. (INSERT PICTURE BELOW)
Two of the most stunning and impactful speeches at the march were given by survivors of the Stoneman Douglas High School shooting themselves. Emma Gonzalez and David Hogg have been at the forefront of the fight for gun control since the Parkland shooting in their school.
David Hogg delivered a speech which moved through the crowd through rising and falling dimensions of emotions. His words were powerful as he called out all those complicit in the deaths of Americans by gun violence.
"First off, I'm gonna start off by putting this price tag right here as a reminder for you guys to know how much Marco Rubio took for every student's life in Florida. One dollar and five cents." He spoke referencing to an orange price tag reading $1.05 handed out to the thousands of marchers to represent the amount per student pocketed by politicians like Marco Rubio with money granted by the National Rifle Association.
"The cold grasp of corruption shackles the District of Columbia. The winter is over. Change is here. The sun shines on a new day, and the day is ours. First-time voters show up 18 percent of the time at midterm elections. Not anymore….Ninety-six people die every day from guns in our country, yet most representatives have no public stance on guns. And to that, we say No more. We are going to make this the voting issue. We are going to take this to every election, to every state, in every city. We are going to make sure the best people get in our elections to run, not as politicians, but as Americans…We will not stop until every man, every woman, every child, and every American can live without fear of gun violence.
"Today is the beginning of spring, and tomorrow is the beginning of democracy. Now is the time to come together, not as Democrats, not as Republicans, but as Americans. Americans of the same flesh and blood, that care about one thing and one thing only, and that's the future of this country and the children that are going to lead it."
When Emma Gonzalez took the stage she was met with resounding applause, but her demeanor was resolute and sincere. She had come with something drastically important and she decided to deliver that message with silence.
"No one could believe that there were bodies in that building waiting to be identified for over a day. No one knew that the people who were missing had stopped breathing long before any of us had even known that a code red had been called," she recalled of the day that changed her life forever.
And then she became totally silent.
A 4 minute and 25 second period of silence following a 1 minute and 55 second period of a brief speech represented the 6 minutes and 20 seconds it took for 17 of her classmates lives to be ripped away.
"Since the time that I came out here, it has been 6 minutes and 20 seconds," she shouted wiping falling tears from her face. "The shooter has ceased shooting and will soon abandon his rifle, blend in with the students as they escape and walk free for an hour before arrest."
The crowd of marchers remained silent in sheer terror of the realization of what that silence had meant.
"Fight for your lives before it's someone else's job," she said before moving quietly off the stage a wild symphony of applause following her exit.
The message that day in Washington and all across the country was clear. Marchers from state to state extended hands across the nation to mourn their loved ones lost to gun violence but also to scream the names of those lost in the face of the lawmakers who refused to acknowledge the issue at its core.
In different means of expression, but in one clear, resolute and unwavering voice the March for our Lives declared once and for all that #EnoughIsEnough.
Leave a Comment