The Top Women of Pop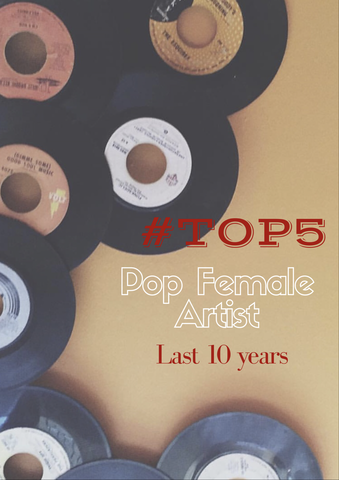 Here are the top five female pop artists in the last 10 years,  as discussed by the advocate staff.
Of course, Rihanna is on this list. Rihanna has been killing it for the past 13 years—her first hit single came out in 2005, and more than 10 years later she is still one of the hottest names in pop. Rihanna's fans love her for her catchy, relatable tunes, her work ethic, her humanitarianism, and her fashion sense. Last summer she released her makeup line, Fenty Beauty, which features 40 foundation shades—and some youtube makeup artists say she may launch even more. She is a humanitarian who uses her resources to benefit developing countries and those in need. supports many charitable organizations such as the American Red Cross and Save The Children. Rihanna built a treatment center at Queen Elizabeth Hospital to treat women with breast cancer in her hometown of Bridgetown, Barbados. Earlier this year, she performed at the Grammys with DJ Khaled and won Best Rap/Sung Collaboration of the year. Rihanna has won 9 Grammys in total and is still at the top of her game.
Lady Gaga is the ultimate fashion icon with the catchiest controversial songs. Gaga speaks on LGBTQ issues, getting over relationships, and, most importantly, loving yourself. Believe it or not, her music was banned in Lebanon because it was "offensive to Christianity". Her song "Born This Way" touched a lot of nerves, and her performance of "Paparazzi" at the MTVA (MTV music video awards) caused a scandal. If you don't remember the infamously meme-ified meat dress she wore to the 2010 MTV video awards, you have been living under a rock. People even followed her lead and wore meat dresses the Halloween of 2010. Lady Gaga is the ultimate trendsetter. Despite being controversial, her Super Bowl performance last year was well received. She has won 6 Grammy awards and done 6 world tours.
Ariana Grande made this list because of her tremendous vocal talent, especially considering that she's only been performing as a singer for about 5 years. Grande officially started killing it when at the age of 15 when she won a National Youth Theatre Association Award for her role as Charlotte in the Broadway production of 13. She later got her role in the Nickelodeon show Victorious. When she announced in 2013 that she would leave acting to pursue music, people were confused yet ecstatic, because she turned out to be this generation's Mariah Carey. Already, so much has happened to her over her young singing career. The bombing at the Manchester Arena was devastating. She lost 22 fans that night, and after the show, she gave her condolences in person to the bereaved families. Later that same summer, she had a benefit concert featuring Justin Bieber, Miley Cyrus, Black Eyed Peas, Coldplay, and Katy Perry to raise money for the bereaved families. She hasn't won any Grammys yet, but she has been nominated for 4 awards and is constantly touring and meeting her fans.
We all know her as America's Sweetheart, for her catchy breakup songs that help you get over your ex, or for certain controversies that Shall-Not-Be-Named. Taylor Swift has won 10 Grammy awards and even a few Guinness World Records. Her career slowed down a bit because of the music video she made for her 2014 song "Wildest Dreams." The video was shot in South Africa but featured no African people. She never released an apology, nor did the production company. This cost her some fans, but her record sales have broken records and her fan base has been growing since. When it comes to her love songs, we can all still relate to what it feels like to get your heart broken.
Last but not least is Katy Perry. Katy Perry debuted in 2001, but her first official single, "I Kissed A Girl," was not released until 2008. Fun fact: she was a Gospel singer before she became a pop star. She is known for being a makeup enthusiast and a philanthropist. Since she is a practicing Christian, her fans understand why she cares so much about the well-being of others. She made Forbes' Top 10 Power Celebrity list and is involved with Red Cross and UNICEF. She's also a sponsor for Cover Girl, an affordable drugstore makeup company. Katy Perry has done 4 tours and is very interactive with her fan base on social media. Despite 13 Grammys nominations, she has yet to win any.
Leave a Comment