Throwback Thursday: Students Speak Out on Cafeteria Service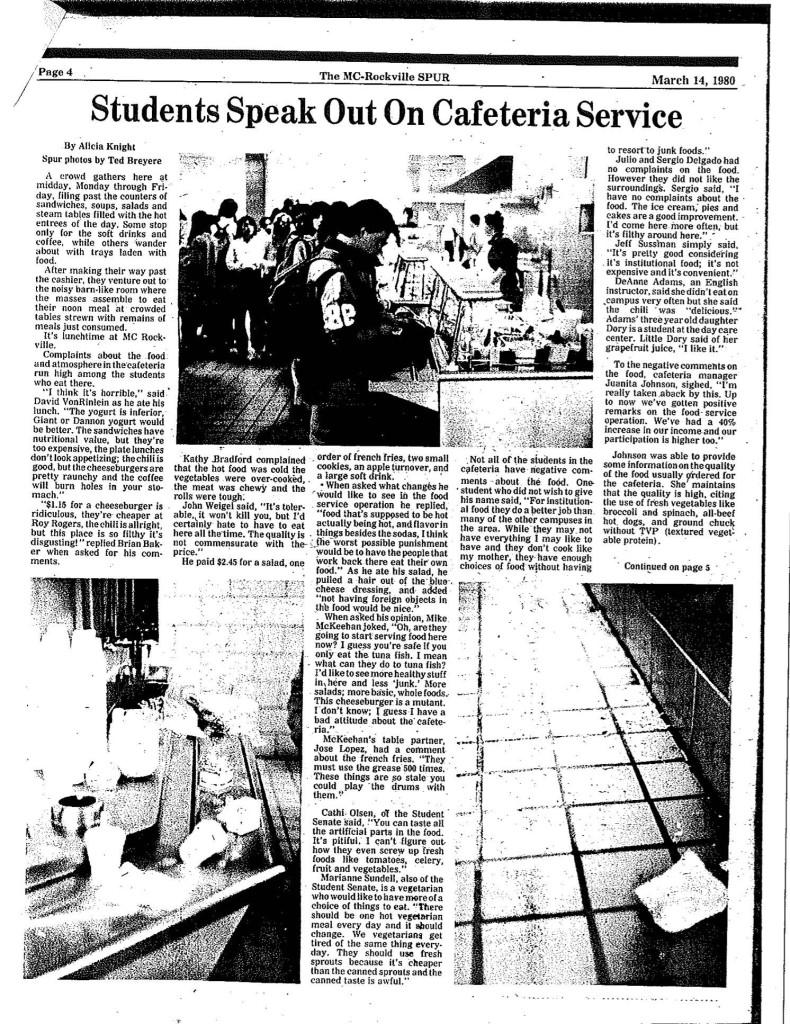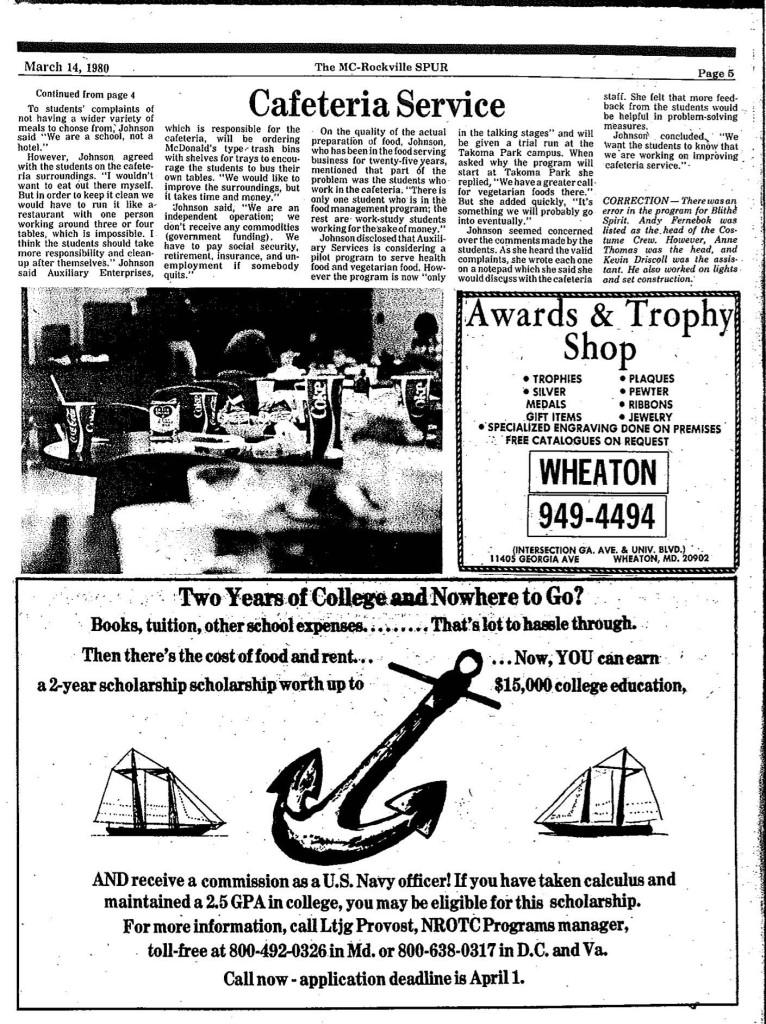 By Alicia Knight
A crowd gathers here at midday, Monday through Friday, filing past the counters of sandwiches, soups, salads and steam tables filled with hot entrees of the day. Some stop only for the soft drinks and coffee, while others wander about with trays laden with food.
Adter making their way past the cashier, they venture out to the noisy barn-like room where the masses assemble to eay their noon meal at crowderd tables strewn with remains of meals jus consumed.
It's lunchtime at MC Rockville.
Complaints about the food and atmosphere in the cafteria run high among the students who ear there.
"I thin it's horrible," said David VonRinlein as he ate his lunch. "The yogurt is inferior, Giant or Dannon yogurt would be better. The sandwiches have nutritional value, the plate lunches don;t look appetizing; the chili is good, but the cheeseburgers are pretty raunchy and the coffee will burn holes in your stomach."
"$1.15 for a cheeseburger is ridiculous, they're cheaper at Roy Rogers the chili is alright, but this place is so flity it's disgusting!" replied Brian Baker when asked for this comments.
Kathy Bradford complained that the hot food was cold, the vegetables were overcooked, the meat was chewy and the rolls were tough.
John Weigel said, "It's tolerable, it won't kill you, but I'd certainly hate to have to eat here all the time. The quality is not commensurate with the price."
He paid $2.45 for salad, one order of french fries, two small cookies, an apple turn over, and a large soft drink.
When asked what changes he would like to see in the food service operation he replied, "food that's supposed to be hot actually being hot, and flavor in things besides the sodas, I think the worst possible punishment would be to have the people that work back there eat their own food." As he ate his salad, he pulled a hair out of the blue cheese dressing, and added "not having foreign objects in the food would be nice."
When asked his opinion, Mike McKeehan joked, "Oh, are they going to start serving food here now? I guess you're safe if you only ear the tuna fish. I mean what can they do to tuna fish? I'd like to see more healthy stuff in here and less 'junk.' More salads; more basic, whole foods. This cheeseburger is a mutant. I don't know; I guess I have a bad attitude about the cafeteria."
McKeehan's tale partner,Jose Lopez, had a comment about the french fries. "They must use the grease 500 times. These things are so stale you could play the drums with them."
Cathi Olsen, of the Student Senate said, "You can taste all the artificial parts in the food. It's pitiful. I can't figure out how they even screw up fresh foods like tomatoes, celery, fruit and vegetables."
Maarianne Sundel, also of the Student Senate, is a vegetarian who would like to have more of a choice of things to ear. "There should be one hot vegetarian meal every day and it should change. We vegetarians get tired of the same thin everyday. They should use fresh sprouts because it's cheaper than canned sprouts and the canned taste is awful.
Not all of the students in the cafeteria have negative comments about the food. One student who did not wish to give his name said."For institutional food they do a better job than many of the other campuses in the are. While they may not have everything I may like to have and they don't cook like my mother, they have enough choices of food without having to resort to junk foods."
Julio and Sergio Delgado had no complaints on the food. However they did not like the surroundings. Sergio said, "I have no complaingts about the food. THe ice cream, pies and cakes are a good imporvemtn. I'd come here more often, but it's fility around here"
Jeff Sussman simply said, "It's pretty good considering it's instutitutanl food; it's not expensive and it's convienvant ."
DeAnne Adams, an English instructore said she didn't eat on campus very often but she said the chili was "delicous." Adams' three year old daughter Sory is a student at the day care center. Little DOry said of her grapefruit juice, "I like it."
To the negative comments on the food, cafe manage Juanita Johnson, sighed, "I'm really take back by this. Up to now we've gotten postive remarks on the food service operation. We've had 40% increase in our income and our particpation is higher too."
Johnson was able to provide some information on the qualit of the food usually ordered for the cafeteria. She maintains that they quality is high, citing the use of fresh vegetables like broccoli and spinach, all-beef hot dogs, and ground chuck without TVP (textured vegetables protein)
To students complaints of not having a wider variety of meals to choose from, Johnson said "We are a school, not a hotel."
However, Johnson agreed with the students on the cafeteria surroundings. "I wouldn't want to eat out the myself. But in order to keep it clean we would have to run it like a restaurant with on person working around three or four tables, which is impossible. I think the students should take more responsibility and clean-up after themselves." Johnson said Auxilary Enterprises which is responsible for the cafeteria, will be ordering McDonalds type trash bins with shelves for trays to encourage the students to bus their own tables. "We would like to improve the surroundings, but it takes time and money."
Johnson said, "We are an independent operation; we don't receive any commodities (government funding). We have to pau social security, retirement, insurance and unemployment if somebody quits."
On the quality of the actual preparation of food, Johnson who has been in the food serving business for twenty-five years, mentioned that part of the problem was the students who work in the cafeteria. "There is only one student who is in the food management program; the rest are work study students working for the sake of money."
Johnson disclosed that Auxiliarty Servies is considering pilot program to serve health food and vegetarian food. However the program is no "only in the talking sage" and will be given a trial run at the Takoma Park campus. When asked why the program will start at Takoma Park she replied, "We have a greater call for vegetarian foods there" But she added quickly, "It's something we will probably go into eventually."
Johnson seemed concerned over the comments made by the students. As she heard the valid complaints, she wrote each one on a notepad which she said she would discuss with the cafeteria staff. She felt that more feedback from the students would be helpful in problem-solving