Black History Month: Jesse Owens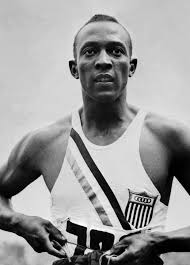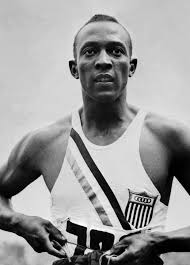 James Cleveland Owens, better known as, Jesse Owens was a record holding, four time winning Olympic gold medalist.
Born into a family of ten on September 12, 1913 in Oakville, Alabama to Henry and Emma Owens, youthful Owens learned of his slave roots and sharecropping family. Growing up in the South, an environment that was no stranger to slavery and racism Owens prematurely experienced the normal life of an African American in America.
At the age of nine, Owens and his family left the South and settled in Cleveland, Ohio. In Ohio Owens attended an integrated, where his dream of becoming an athlete began to turn into a reality. Owens became athletically active during Junior High, where he set numerous and unsurpassable records in distinctive areas of field and track. His progress solely increased throughout his time in high school, which led to various colleges trying to recruit him. Although no scholarship had been offered, Owens decided to go to Ohio State University, to establish his future as a well performing athlete.
Like most African Americans during the time, Owens battled racism, segregation, and financial burdens. He took up several jobs to cover his tuition, as well as help his family. At school Owens prevailed in athletics and eventually became a national star in May of 1935, as a result of the world records he set at the Big Ten Championships. Even with all the success Owens accumulated, the harsh discrimination, and dehumanizing actions did not cease on Ohio State University grounds, the Cleveland, Ohio streets, or wherever he chose to travel to.
In 1936 Owens entered the summer Olympics hosted in Nazi Germany. At the time the idea of a boycott due to the inhumane activities occurring in the country was at talks, but was ultimately disregarded. During the Olympics, Hitler focused on displaying the power of Aryan supremacy, but the shadow of Jesse Owens simply presented his ideology to be inaccurate.
At the Olympics, Owens fast speed accompanied by the then unknown brand of Adidas leather track shoes, dominated the event. He won four gold medals and set world records for the long jump, the 100, 200, and 400 meter run. An act that took 48 years to surpass. An act that is today regarded as one of the most significant performances in Olympic history.
Although Jesse Owens himself was not a activist he did not shy away from speaking the truth about the living in a black mans world in America. After his success at the 1936 Olympics Owens felt cheated and once again experienced the dark hypocrisy of the country when President Franklin D. Roosevelt chose not to acknowledge his achievement.
In 1976, President Gerald R. Ford granted Owens the Medal of Freedom, the highest civilian honor that celebrated his courageous acts throughout his career as an athlete.
On March 31, 1980 Jesse Owens died of lung cancer. Three years later, in 1983, Jesse Owens was inducted into the US Olympic Committee Hall of Fame.
Jesse Owens biopic 'Race,' a riveting tale of his life experience, is now playing in theaters.
Sources: encycloperdiaofalabama.org/jesseowens.com/history.com