Club Profile: Student Art League
President of the Student Art League Club, Savita Bansi, stands in front of the silent room and introduces the artist featured for this weeks Artist Talk, Professor Lucy Derickson. After a brief introduction, Professor Derickson begins her showcase, which focused on constructing unique art through metals and the room fell into deep concentration.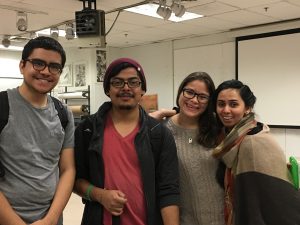 The Student Art League is a club that encourages art students to build on techniques and gain knowledge on the different aspects of art. Through the club, individuals are exposed to a variety of artists, performance-building skills, and experiences that help build a firm foundation for their long-term goals.
Ultimately the Student Art League provides individuals with a range of opportunities that allows them to find and establish their interests within their fields.
"Student Art League is a club [not only] for art major students, [but for] anyone who wants to join," said Maribel Romero, secretary of the club. The club was established to allow students to have a place for artistic growth and development.
The Student Art League focuses on the idea of building a community that supports learning about art, and experiencing its different types as a means to advance one's artistic influence.
When discussing how the club helps students determine their educational paths, "much of what we do, involves [working with] the professors, [this way] each student has the opportunity to [have knowledge] about the class prior to taking it," said Romero.
The club gives students the opportunity to interact with areas of art that are outside their comfort zones, and introduces them to new concepts through events, trips and workshops.
The events set up within the club are created to target and introduce individuals to new elements and help them perfect their skills. "We take field trips to see amazing artists and get to see paintings we would [have] never imagined to see,"said Romero.
The Student Art League arranges trips and visits to various studios that allows individuals to have an understanding of art from different environments, thus expanding an individuals perspective.
They also produces a magazine every semester, called Spectrum. The magazine celebrates student art and the art community formed at Montgomery College.
The Spectrum magazine allows for individuals to write articles, carry out interviews, take pictures and create comics for publishing. The magazine is a platform where individual express themselves and share their artwork.
At the end of Professor Lucy Derickson's presentation, individuals crowded around her to ask questions, take pictures and view several of her art pieces.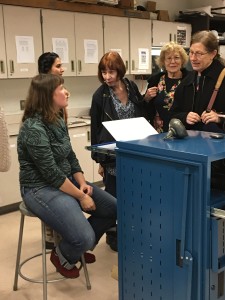 "… the art community [allows us to come by] different new things, [things] that we would not be able to learn without this experience," said Romero.
Anyone interested in joining The Student Art League can reach the club at [email protected] or attend a meeting on Thursdays from 12:00 PM to 1:00 PM in room 301 of the Paul Peck Building.