Hurricane Katrina:10 Years Later Art Exhibit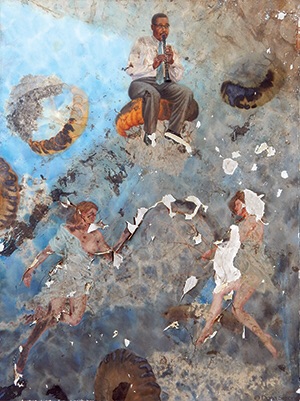 Rarely do we come across Hurricane Katrina at such a personal level as we do in the Hurricane Katrina: Ten Years Later art exhibit held in room TC 106, curated by John Deamond and Martha Vaughan.
Walking into the room, we're reminded of the flooding waters in blue tones surrounding you as it did the city. Structures and canvases isolated in perspective just as the horrors of the storm were ten years ago.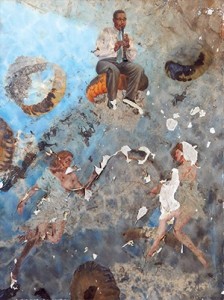 As you leave the room, it's left as an impression, as a still silent image, just as the people of New Orleans were left and forgotten. It reawakens the memory of what's long since been buried in the past.
Each art work, from abstraction, impressionism, cutouts, sculptures, to photographs, are a single piece to the image that paints a whole. If anything, these artworks are a showcase of what needs to be recognized.
There's no doubt that we've been negligent as a nation towards the hardships of Katrina survivors and that the mention of the horrific incident is only a tag onto the failures of the Bush Presidency.
We almost never hear about it in today's politics. Granted, there have obviously been more happenings within the past ten years that deserve much attention from our policy makers—but it doesn't excuse the abandonment of an incident that should've been rectified so long ago.
With art pieces such as Habeas Corpus #1 by Aziza Claudia Gibson-Hunter, which "underscores the callous treatment of New Orleans' people by the military and press," we can not only see the first-hand view-point of the victims. However, we also see where we as a nation went wrong.
Maybe with that perspective in mind and even just the recurrence of its memory, we can finish the rebuild of one of our nation's greatest cities.
The art galley was exhibited through Feb. 26 in the Media Arts Galley on the lower level of the Technical Center.