Black History Month: Ida B. Wells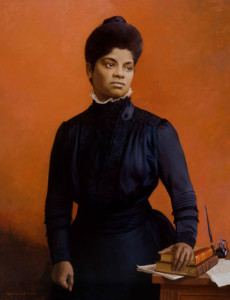 The late Ida B. Wells-Barnett, more commonly known as, Ida B. Wells was a Civil Rights activist and journalist throughout the late nineteenth century and early twentieth century.
Born the daughter of slaves in Holly Springs, Mississippi, on July 16, 1862, she was the oldest of eight children. Post Emancipation Proclamation, the Wells family was declared free by the Union six months after the birth of Ida.
Being Black in Mississippi resulted in racial discrimination and oppression, which the Wells family and other newly freed slaves in the confederate states faced through prejudice practices and restrictions on African-American citizens.
Her parents were active members of the Republican Party during reconstruction. Wells' father was involved with the Freedman Aid Society, founded by the American Missionary Association and helped found Shaw University (now Rust University), an institution which would serve as a place of education for freed slaves.
It was at the university that Wells would receive her early childhood education which would set the ground work for a life of journalism and activism.
Not too long after enrolling in the school, Wells had to cease her schooling immediately when the Yellow fever killed her parents and her siblings. This caused her to drop out of school.
Wells was left to care for her other siblings at the age of sixteen. She landed a teaching job at a local county school where she convinced an administrator she was eighteen.
In 1882, Wells moved to Memphis, Tennessee to live with family and continued her educational career at Fisk University in Nashville.
While living in Memphis, she became the co-owner and editor of a local black newspaper called The Free Speech And Headlight which would kick-start her career as a journalist.
As a columnist she wrote her editorials on the civil rights of African-Americans and condemned violence against blacks, disfranchisement, poor schools and the failure of black people to fight for their rights as citizens.
Her affiliation with the paper resulted in her termination from her teaching job so she decided to become a full-time jo0urnalist.
Wells spent her years (post-teaching) creating an anti-lynching campaign where she advocated the horrors of lynching. She explained that blacks were lynched for their skin color, rather than their actions like many white citizens liked to argue.
She took the movement to England after moving out of Memphis, where she and her campaign were well received. She was able to establish the British Anti-Lynching Society in 1894.
Wells began to write many pamphlets, articles and stories exposing lynching for the monstrosity it was and defended blacks in her publishing against the violence faced by racist whites. It was through her works as a journalist that she became an activist.
Wells was active in her advancement of other political causes as well. She protested the exclusion of Blacks from the 1893 World's Columbian Exposition in Chicago and later she helped launch the National Association of Colored Women (NACW).
In 1909, Wells was a founding member of the National Association for the Advancement of Colored People and actively campaigned for Women's rights in addition to the rights of African-Americans.
Sources: biography.com / pbs.org/ blackpast.org (quote located in teaser was taken from biography.com"