The Astounding Maya Angelou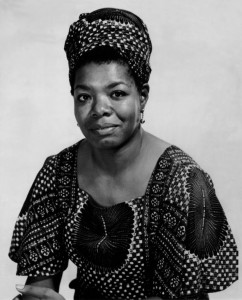 Born Marguerite Annie Johnson, author, civil rights activist, poet, dancer, and singer, Maya Angelou altered the world of literature and helped dissolve the strong barriers that kept individuals who craved the simplistic concept of equality and recognition from displaying their work.
Her sincere writing explored the significant themes of culture, ethnicity, gender, race and sexual orientation. She pushed towards the formation of peace.
By looking into her soulful eyes and listening to her powerful and generous voice, one could only imagine Angelou as leading a peaceful life. However, growing up Angelou faced racial discrimination, sexual abuse, and teen pregnancy. She carried the feeling of abandonment and constantly blamed herself for the problems she encountered as a child. Thus leading her to present her flawed life and expose the insecurities she once held as a young black girl growing up in Jim Crow South.
In attempt to advance the then current the social setting for African Americans, Angelou sought to tell her story in hopes of influencing a courageous generation of African Americans to engage in a fight for their equality.
By utilizing her own life experience to draw inspiration Angelou established her most famous book I Know Why the Caged Bird Sings, the first non-fiction best seller by an African-American woman.
An autobiography, which exposed the socially injustice conditions that African Americans faced during the time and allowed for individuals to see through the perspective of a silenced and oppressed community.
After publication, Angelou gained international attention of individuals who were able to relate to her experience and saw the opportunity to build a bridge to change.
Throughout her lifetime Angelou led an adventurous life, living in various parts of the world, such as in Europe and Africa precisely Ghana and Egypt. She constantly devoted her time establishing progress and equal opportunities within the lives African Americans.
As a civil rights activist, Angelou kept close ties with Malcolm X and Martin Luther King Jr. and penned down brilliant work that encouraged and inspired young African American men and women.
Throughout the Obama campaign in 2008, Angelou campaigned endlessly for Barack Obama displaying her undying will to fight.
Even after the passing of Maya Angelou, her alluring words linger in the minds of young men and women. Her poems and life story are viewed as lessons and common motivations for those who crave to change the world.
Through her exemplary stories and poems Angelou encouraged pride and strength throughout the African American community. Although her life consisted of adversities most individuals will not face today, she remained humble and optimistic.
The great Maya Angelou has taken a bow from the world she has significantly changed through her compelling words, which present themselves as witnesses of her eternal soul.
Sources: biography.com/theculturetrip.com