Letter From the Spring 2016 Editor-in-Chief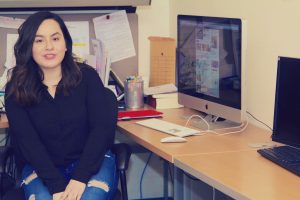 Welcome back faculty and students to Montgomery College after the chaos of the snow!
My name is Sara Monterroso, and I'm the new Editor-in-chief of the Montgomery College Advocate!
I cannot express the excitement I have to be in this position!
My interest in journalism began in my junior year of high school when I decided to take a journalism course as an elective. Mrs. Lisa MacFarlane taught the course; she's the one who sparked my fascination of the journalism world.
I loved to hear her talk about her job as a producer on NBC news, which her husband, Scott MacFarlane, is currently a reporter for. The fact that a group of people– journalists– can impact the world so greatly, appealed to me.
I joined the Advocate this fall, my first semester here and I quickly climbed up the ladder from staff writer to managing editor in a matter of weeks. I have had almost an entire semester working along side the editor, closely watching how she would make a good article, a great one. I thank her tremendously for choosing me as her successor.
My plans for the Advocate this spring is to continue to update fellow students on news regarding their school–breaking news that is important and relevant to the campus.
I plan to continue to speak to more students through Humans of MC, student profiles, and two new segments our team has come up with–MC in Photos and Ask an Advocat. We also want to use our social media accounts much more frequently!
I hope I can make at least one student a loyal reader of the Advocate!
Visit our site–look to us for news that's important to your time here at Montgomery College!
Follow us:
Facebook: https://www.facebook.com/MontgomeryAdvocate/
Twitter: https://twitter.com/MC_Advocate
Apply here: https://mcadvocate.com/apply-advocate/
Any other questions, comments or concerns can be emailed to [email protected]
Have an amazing semester!