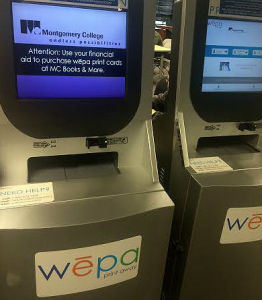 WEPA printing systems and software have been on MC's campuses since fall of 2010. Montgomery College's facilities went from an old-school "five cents per page" machine at several stations to cards which require money to be placed on them electronically.
The efficiency factor can be debated depending on which side of the fence one falls. However, students still have differing opinions from a similar perspective.
"I think a positive aspect is not wasting unnecessary paper. By students paying for it, they will be more careful with their printing," said  MC student Karen Carbajal. "A negative aspect is students have something else to pay for. [Students] already have it difficult with money, so that's something else added to our expenses," Carbajal added.
"Why should I have to pay for printing?" said student Gabrielle Eley, "We already pay for [tuition] and textbooks. We should have free printing."
"The greatest benefits of the college's transition from free printing to pay-for-print is that paper waste has been significantly reduced," said Chiquita Manago Haywood, a member of the Office of Procurement, a contractor affiliated with WEPA.
"WEPA provided $10,000 in complementary print cards for news students for the 2013-2014 Academic Year."
According to Haywood, that contribution was increased to $35,000 for the current Academic Year.  The complimentary print cards ($5 denomination) were distributed to the libraries, writing centers, Welcome Center, and Student Services buildings. Each $5 card represents 50 free pages of black and white printing."
Haywood also pointed out that In 2010, according to her numbers, students' printing was estimated at 10.7 million pages, whereas in 2012-2013, after WEPA was implemented on MC's campuses, printing had decrease to 1.02 million pages.