The MC Advocate discuss the new Student Services Building, Science West and the new ...
Humans of MC
"I don't have one set of friends. I like to branch out and diversify my friends. I can pretty ...

(Photo Credit: Devaughn Phillip) Mark Loock "I go to school in Colorado, so I'm taking ...

Christopher Stipple, student at Montgomery College. (Photo credit: Adrilenzo Cassoma) "The hardest ...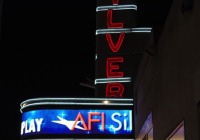 The American Film Institute Silver Spring will host movie nights featuring old films along with a post-show discussion. The event was organized by film Professor David Rothman.   "These ...