U.S. Department of Labor Awards MC $5.3 Million For Cyber-Technology Training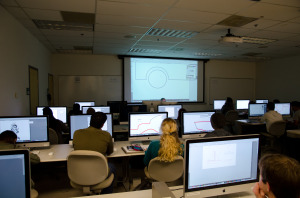 In an effort to support cyber-technology programs, the U.S. Department of Labor has awarded $15 million to 14 community colleges across Maryland for the Cyber-Technology Pathways Across Maryland (CPAM) Consortium.
The Trade Adjustment Assistance Community College and Career Training grant awarded Montgomery College $5.3 million for a CPAM Consortium program, which will begin taking students in the fall of 2015.
The grant was a part of the 270 community colleges across the country that received a total of $450 million in job training grants, announced by Vice President Joe Biden, Secretary Thomas E. Perez, and Secretary Arne Duncan on Sept. 29.
"This is a higher education, employer, and government partnership assisting individuals in getting jobs, while helping employers fill critical needs,"  said Steve Greenhill, the Dean of business, information technology, and safety in the Workforce and Development & Continuing Education (WD&CE)
The program is implemented "to educate and train unemployed and underemployed individuals, veterans, women, and other groups underrepresented in technology and science fields, among other students, with a focus on the cyber-security sector," Greenhill added.
With over 40 partners, including IBM, Raytheon, Lockheed Martin, Medstar, and other organizations, the program consists of training pathways for low-income workers, with minimal prior education or experience in information technology and cyberspace.
With this agenda, the program's initiative is to close the skills–gap by preparing students for careers in the cybersecurity and tech fields in Maryland.
According to the White House press release regarding the program, there are 130,000 IT jobs in Maryland alone, which is 49 percent above the national average. The CPAM Consortium is designed to not only to enhance  training in technology but to offer students firsthand experience by working with several of the 40 organizations.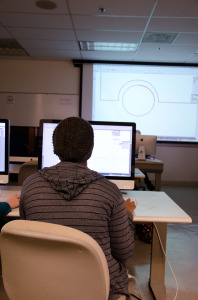 Students participating in the program will have access to unique internship opportunities several of these organizations based in Maryland.
"The good news is they have pledged to consider our credential and degree completers for internships and jobs," said Greenhill. "That means students will have the opportunity to put a best foot forward in terms of demonstrating work ethic in addition to good communication, teamwork, interviewing skills. I encourage all students to work on those aspects in addition to the technical skills."
While currently in search of a director for the program, the WD&CE will begin hiring faculty and developing curricula, while outfitting labs with new employer–validated equipment from now until early 2015 in preparation for the Consortium.
"Together with these funds and our employer partners, Montgomery College and Maryland's [other] community colleges can enhance our efforts to attack the skills gap–connect more of our residents to good jobs and fuel our economy with workers ready with 21st century skills.," stated Dr. DeRionne Pollard, the President of the college.
While the program is to begin next fall, students are encouraged to consider the Associates of Arts Cybersecurity Program that is currently offered at MC.