The 2023 Rockville Student Life Awards: Speakers, Outfits, Winners, and More
"This is your county; this is your college; you created the campus community through your participation in student life attending campus events and engaging with your peers. You put in long hours before, between, after classes. You haven't just been commuter students, you've been an important part." Provost Dr. Eric Benjamin addressed the audience of student club leaders with these words on Friday, May 5th, 2023 at the Rockville Student Life Awards, and advised, "show up for people and they will show up for you."
Dr. Benjamin continued, "being right and knowing the right answer is not enough. You have to have the will to make things happen. You have to hustle to see things through in your leadership. Experiences that require to be responsible and accountable and that exercise critical thinking and problem solving skills in your commitment to student life hone your ability to effectively communicate with others, delegate tasks, and influence and motivate your peers."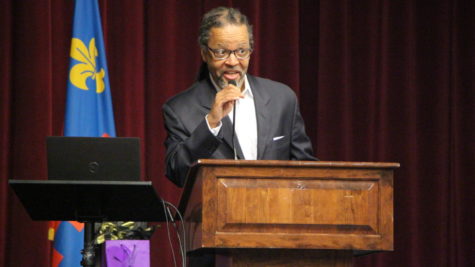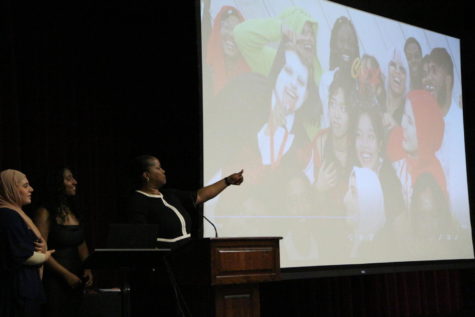 Additionally, Director of Student Life, Lisa Hackley, reflected that the awards ceremony embodies why she loves what she does. Moreover, Advocate Editor-in-Chief Ayesha Adnan gave an off-script Best Director award to Lisa Hackley. Many other students and faculty received honors as well.
Abdullatif Elmuaqqat, President of Arab Society Club, winner of the Emerging Club Award, wore a Palestinian keffiyeh – a square cotton scarf – around his neck which reflected his club's mission to create a community for Arabs "that's engaging and helps students in the college." Elmuaqqat thought of his biggest extracirricular accomplishment of the year as the Eid event.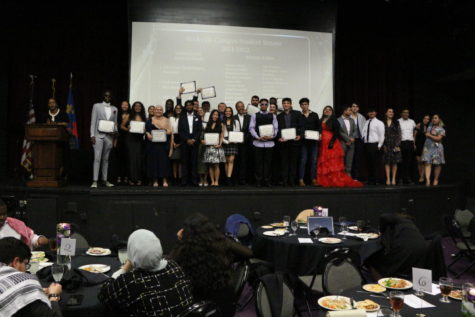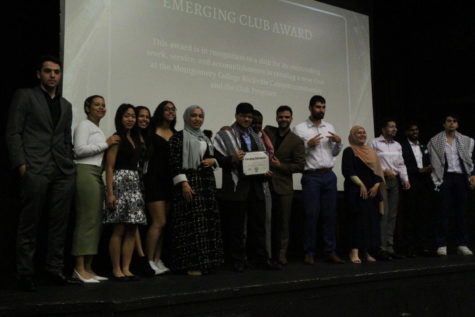 Anna Paz, an economics major representing the Senate, "tricked up" her navy blue and orange light dress with double layers to let her favorite colors keep her warm regardless of the unpredictable DMV spring climate. During her final MC student life banquet, Paz told the Advocate that if she had had time for one more club, she would be on board with Latino Student Union. Student Senator Paz's favorite events included the Build-a-Bear workshop and Eid celebration.
Student Activities Board (SAB) member, freshman Adry Vargas, dressed business chic in her jacket, pants, and Steve Madden shoes. Vargas encouraged the student life community to simply "have fun, guys!" Vargas recalled the Takoma Park formal as her fondest memory of a MC event.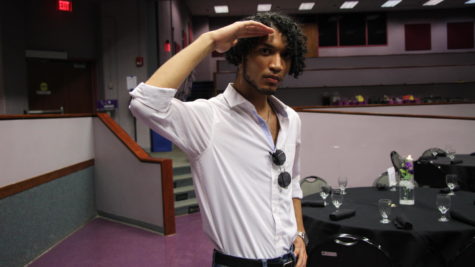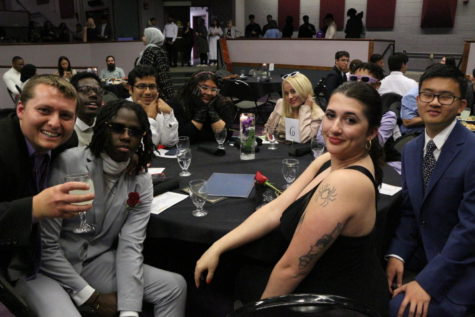 Carlos Scott wore a white suit with jeans – which he explains as symbolic of his "desire to confront challenges" – to represent the Collegiate Association for the Research of Principle (CARP) club, a "young adult's ministry." He particularly enjoyed sidewalk events including Spirit Week because he "got to talk to the other student life people there" and additionally, his club's momentum meetings, where they discuss a myriad of ethical topics. What the future cardiovascular sonographer loves most about MC "is how connected everything is" because "there's a lot of resources for us to use."
Eva Wicks attended on behalf of "SAB, Senate, and Budget Panel." Wicks wore a red ballgown with leather gloves and jewelry with two tigers, which she explained she chose because, according to Wicks, "I like to overdo it… I'm a Gemini." She remembers most fondly the painted pot event "because it was one that I did with another fellow member and we undertook it as a team so it's my baby."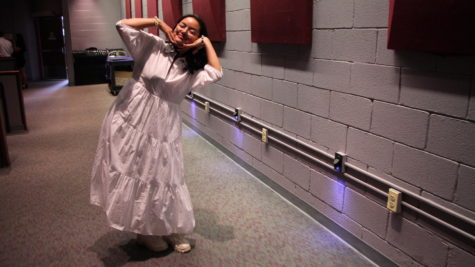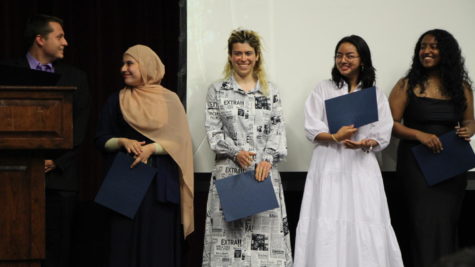 Summer Mai Li Suliman managed the Advocate's social media and website and transfers next semester to study either journalism or sociology and minor in African American history. She loved any event with "the Raptor Food Truck." Wearing jewelry from the Cherry Blossom Festival – where she volunteers – as well as from her mom, and a Zara dress, Mai-Li Suliman declared, "I will miss it here! That's it." (Advocate journalist and Rockville Student Senate Secretary Fikir Negesse Mantegaftot assumes Summer Mai-Li Suliman's position this upcoming fall semester.)
Winner of the Club of the Year award, Social and Volunteering Club, had several members at the awards including President Renzo Rodriguez. When asked to invent a new student life award, he chose "'Camaraderie Award' that basically should go to the club that brought a lot of people close together to build real friendships." Rodriguez, dressed business casual in a navy shirt, khaki pants, and Rolex watch, attributes his club's camaraderie, in addition to passion and perseverance, to its success and particularly enjoyed the ceremony's "video replay (going) through all of our memories. It really hits because I remember everything I went through, everything we did as a group, and how much we succeeded."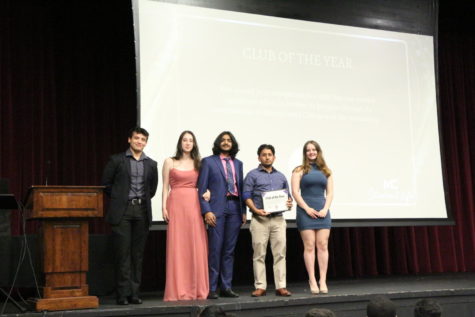 To view the listing of clubs: https://www.montgomerycollege.edu/_documents/life-at-mc/student-life/rockville/club-listings-rockville.pdf
To start a club: https://www.montgomerycollege.edu/_documents/life-at-mc/student-life/club-handbook.pdf
To join the Advocate: https://mcadvocate.com/apply-advocate/