Montgomery College Hosts the Spring 2022 Opening Meeting with Incoming President Dr. Jermaine Williams
On January 18, Montgomery College hosted the MC Spring Opening Meeting of 2022. The event was held virtually on the Germantown campus due to rising cases from COVID-19 and its numerous variants. The live-streamed meeting, attended by over 1,000 people, featured multiple Montgomery College speakers, including Dr. Sanjay Rai, Dr. Lori Kelman, Professor Alvin Trask, and more. Ringing in the new year, the event dives into the future plans for MC.
Opening remarks were provided by Margaret Latimer, Vice President at the Germantown Campus. Latimer elaborated on the tremendous change taking place at MC. Masks and remotely operated classrooms become customary as students and faculty embrace continued education in a pandemic.
The motivation for MC this spring is change—building the next normal. According to Interim President, Dr. Charlene Dukes, remaining active means continuing to propel students forward. In 2022, MC discusses its endeavors in a time of great persistence and development. Dukes notes Montgomery College as being the most vaccinated community in Maryland. Montgomery College unequivocally intends to allow data and science to lead all succeeding decisions. During her segment, Dukes declares, "…our entire existence is adaptation."
Incoming MC President, Dr. Jermaine Williams, states that transparency in matters of social injustice remains paramount. Williams believes in the elevation of MC: building on successes and taking MC to the next level through partnership. Amidst many dire circumstances, Williams ensures MC will continue to serve students and the community. The ongoing demonstration of COVID-19 precautions at MC will extend to the practices taking place this spring semester. MC campuses will continue to provide resources for testing, vaccination, and booster shots. Likewise, exhibiting social distancing, wearing masks, administering daily tests will continue at MC.
According to Dr. Jermaine Williams, "We can not 'other' racial and social injustices—they need to be within the framework of every single conversation…"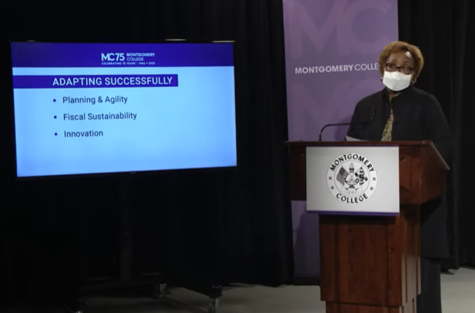 How does MC intend to lead its students in the spring semester?
Montgomery College works at promoting leadership via communication and inclusion this spring semester. The Presidential Scholars Program (PSP) prioritizes student success at MC. Dr. Carmen Poston-Farmer Travis, Director of Student Affairs and Initiatives, highlights this program at MC. In the words of Dr. Poston-Farmer, the priority initiative aspires, "to increase completion of degrees and professional certificates and increase the representation of African American men in careers and industries with life-sustaining salaries." To strengthen the connections between students and staff this semester, MC works on supporting the psychological needs of its students. This includes offering continued financial aid and basic needs support, mentoring and success coaching, and academic and student support services. Dr. Poston-Farmer notes that, "through internal and external relationships and partnerships we [PSP] will build resources." Promoting self-actualization-the recognition of one's talent and potential-is especially important this semester. Students will be able to utilize various experimental learning and academic opportunities to reveal their inner potential.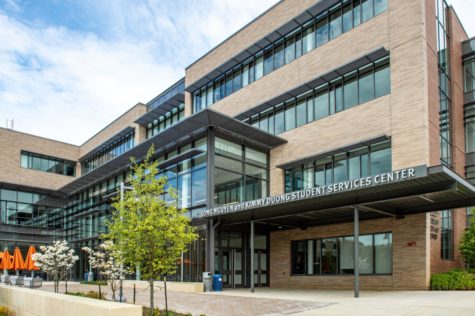 The virtual event spotlights the Maryland Male Students of Color (MMSOC) Summit at MC. The majority of the students within the program are first-generation or coming from low-income households. Regardless of their backgrounds, the students are given resources and time to launch their academic careers. MC instructs students on the value of mentorship and connection. According to Dr. Andraé Brown, a psychology professor at MC, "…one of the main reasons that students don't finish or complete their time in MC is because of lack of connection."
On a final note, construction on the Catherine and Isiah Leggett Science Building Site continues this spring semester at the Takoma Park/Silver Spring campus. The MC Rockville campus in 2021 welcomed the Long Nguyen and Kimmy Duong Student Services Center and Macklin Business Institute Finance Lab. The use of these centers will continue in the spring semester.