Remembrance Weekend: recognizing lynchings in Montgomery County
A three-part event titled: Remembrance Weekend took place Saturday, September 25th, and Sunday, September 26th. The occasion ventured through the political environment of Montgomery County throughout the late 19th century. More specifically, Remembrance Weekend centered around the recognition of two wrongfully lynched black men: Mr. John Diggs-Dorsey (d.1880) and Mr. Sidney Randolph (d.1896).
"Understanding how acts of racial terror unfolded is an essential act of remembrance. Uncovering the roots of those acts is necessary in order to begin the journey toward reconciliation."  – Montgomery History
Unwritten Law: A Symposium on the Lynchings in Rockville
The first event, "Unwritten Law": A Symposium on the Lynchings in Rockville, was managed by the Montgomery County Historical Society from 9:00 a.m. to 12:30 p.m. on September 25th. The symposium, hosted by Executive Director Matthew Logan, was live-streamed onto the Montgomery History Facebook page and took place entirely via the Zoom platform. Three local historians were invited to speak: Ralph Buglass, Sarah Hedlund, and Anthony "Tony" Cohen.
The webinar was opened by the President of the Montgomery History Board of Directors, Mrs. Shaunta Vaughn, and included numerous prerecorded portions from Craig Rice, Hans Riemer, and Will Jawando: members of the Montgomery County Council.
The event explored countless aspects of Mr. Diggs-Dorsey and Mr. Randolph's murders. It described the ways in which these violent crimes, "were replicated in other parts of Maryland and the United States." (Montgomery History et. al). Montgomery History presented this meeting in an attempt to recognize a small fraction of the Black people who fallen victim to the tactics used to terrorize and dictate them throughout the years.
Retrospective on Race in Post-Civil War Montgomery County was the segment led by Montgomery County native and historian, Ralph Buglass. Within his portion, Buglass delved deep into the history and background of Montgomery County during the time of Mr. Diggs-Dorsey and Mr. Randolph's lynchings. Utilizing the vast amounts of studies and research, Buglass put into perspective the racial climates that persisted decades following the Civil War. Towards the end of the 1800s, much of the Black populous living within Montgomery County worked in lower-status occupations revolving around manual labor, "while their children attended separate, ill-equipped schools." (Montgomery History et. al).
Southern sympathies remained stronger than ever within the mainly agricultural Montgomery County. Medical aid and fair treatment were scarce as there were no professional Black doctors in the county until well into the 20th century. Moreover, the increasingly threatening political atmosphere ensured little safety for Black people in Maryland. Despite all this, Black folk still managed to create a community and culture within their segregated society.
"African American rights, in Maryland, were always tenuous in the late 19th century."
– Ralph Buglass
Following the first segment, Two Rockville Lynchings: The Truth Uncovered, was a seminar led by Montgomery History Archivist and researcher, Sarah Hedlund. This portion of the virtual event was a narration on the two lynchings of Mr. John Diggs-Dorsey and Mr. Sidney Randolph. It discussed Rockville, Maryland until the end of the 19th century and identified how said tragic events came into play. Hedlund highlights the reviews of various local and historical newspaper reports consisting of genealogical research, photographs, archival documents, and maps.
In addition, Hedlund noted the eminent white bias found within the newspaper reports of the time. Often were these documents riddled with descriptions that villainized both Mr. John Diggs-Dorsey and Mr. Sidney Randolph. In many instances, Hedlund states that, "accused Black men were referred to as brutes and fiends…while the white citizens were described as upstanding, noble, estimable," etc.
The third and concluding section of the Remembrance Weekend's online event, Anatomy of a Lynching, was hosted by historian Anthony "Tony" Cohen. Cohen went into detail on the racist mob killings of three black men in 19th century Montgomery County. The segment exposed both the motive and methodology found behind these gruesome crimes.
The Jim Crow era resulted in some of the most infamous national cases of lynching the world has ever known. Cohen mentioned various victims of the most violent and brutal lynchings in Mayland: Mr. George Armwood (d.1933), Mr. Matthew Williams (d.1931), and Mr. Frank Embree (d.1899).
The seminar revealed ongoing and prominent legal systems, "conspired to support and promote these formidable acts of racial terror injustice." (Montgomery History et. al).
Cohen exposed the false information regarding the context and content of the lynchings that are encompassed in past records. Not only were the victims younger than stated, but some suffered from mental disabilities; including Mr. George Peck. The majority of lynchings were enacted over non-criminal acts. Cohen referred to an event taking place in late 1800, Loudoun County, Virginia: a young Black boy was lynched after scaring a group of white girls for a Halloween stunt. Cohen stated, "…it wasn't that it [lynching] was above or beyond the law, but it walked in the shadow of the law."
"This is an impulse…that we've never rid ourselves of, so that's why it's important that we keep studying and telling these stories because I believe it's a story of us today."
– Anthony "Tony" Cohen
Remembrance Pilgrimage Walk 
Lynching is described as an extrajudicial, or parajudicial (French term for paralegal), a tactic used by white Americans as an attempt to control Black people. The in-person Remembrance Pilgrimage Walk, Sunday, September 26, was hosted by the Montgomery County Lynching Memorial Project (MoCoLMP) and the County's Remembrance and Reconciliation Commission. Leading a maximum of 100 people, the walk guided all participants on a journey through the spirited African-American community.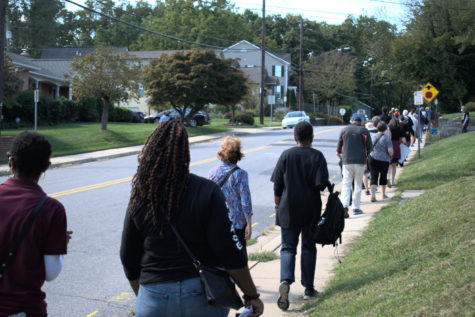 "I thank the Lord for the history because it now helps me to appreciate the present…"
– Gale Wright (former MC counselor and Remembrance Pilgrimage Walk participant)
Led by the sounds of drums, provided by Jabari N. Jefferson, the excursion walked us to many significant locations of Montgomery County and offered insight into the history of Rockville, Maryland. We began at 12:00 p.m. in front of the previous location of the old county jail where Mr. John Diggs-Dorsey and Mr. Sidney Randolph were held before their lynchings. There were a total of eight sites including the Red Brick Courthouse, late 1800s Rockville, West Farm, the Beall-Dawson House, Jerusalem Mt. Pleasant United Methodist Church, The Anderson Farm, and the Haiti Community and Cemetery. Our walk concluded by 3:00 p.m. in Welsh Park.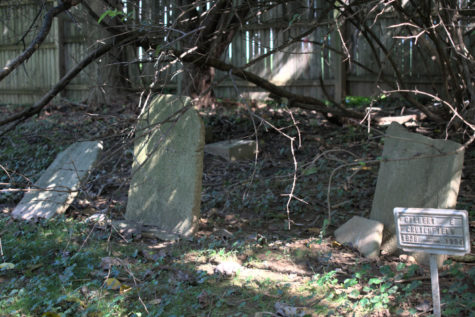 Soil Collection Ceremony 
The Soil Collection Ceremony, also hosted by MocoLMP and the RRC, occurred Sunday, September 26, from 4:00 to 5:30 p.m. In November 2019, a similar event was held recognizing the horrific lynching of Mr. George Peck in Poolesville, Maryland. We honored the memories of Mr. John Diggs-Dorsey and Mr. Sidney Randolph through spoken word, song, soil gathering, and saying their names.
The ceremony officially opened with a call to gathering: music from choir members of the Clinton African Methodist Episcopal Zion Church, Jerusalem-Mt. Pleasant United Methodist Church, Mt. Calvary Baptist Church, The Smithology Project, and Washington Revels Jubilee Voices.
The occasion invited multiple local community leaders and out-of-state speakers to share reflections and remarks; with ASL translators provided on stage alongside them. Members of MocoLMP, Lesley Younge and Rev. Alexa Fraser, proceeded with an introduction to the event as well as the calling of Mr. John Diggs-Dorsey and Mr. Sidney Randolph's names. Students and graduates of Montgomery College's own Social Justice Inclusive Leadership Institute, Adjo Evonlah, and Patrick Ibañez, offered detail on the lynchings of Mr. Diggs-Dorsey and Mr. Randolph. Montgomery County Councilmember, Hans Riemer, stated the county council's official proclamation.
"…this soil will serve to remind us of our responsibility to understand our history and to work to repair and heal the damage of the past by acting in the present."
Proclamation of the Montgomery County Council (Sept 26, 2021)
"The path to reconciliation is long and winding, but we are on it," states RRC chair member Jason Green. A representative of the Equal Justice Initiative, Elliot Spillers, traveled up from Montgomery, Alabama to issue his own segment. Towards the end of his speech, Spillers quoted the poem "Lift Every Voice and Sing" by James Weldon Johnson (d.1938).
"'…shadowed beneath Thy hand, may we forever stand, true to our God, true to our native land.'"
– Elliot Spillers (quoting "Lift Every Voice and Sing")
The soil gathering ceremony was conducted in silence. Led by multiple student volunteers of Montgomery County, each person took a turn to touch and scoop soil into one of eight jars—four for Mr. John Diggs-Dorsey and four for Mr. Sidney Randolph. We concluded with more music and a portion from Rev. Alyce R. Walker Johnson of the Clinton African Methodist Episcopal Zion Church. Following the ceremony, when asked what she wished people would take away from the event, Paulette Grady, a choir member from the Clinton AME Zion Church and participant in the ceremony stated, "[a] program's a program, but actions speak louder than words."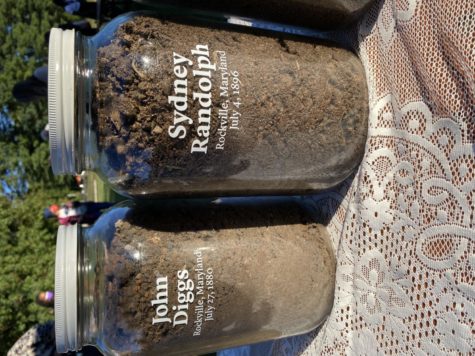 Note from the writer: Partaking in this event was eye-opening and remarkable. The solidarity and support found within my fellow participants filled me with a new sense of hope and confidence that we as a community, in Montgomery County, are moving towards the right direction. I will not soon forget this experience, and for those reading this article, I intend to ensure you won't either; whether you attended or not. Attached to this article there is also a Remembrance Weekend highlights video, edited by Summer Mai Li Suliman, summarizing both the Remembrance Pilgrimage Walk and Soil Collection Ceremony that has taken place Sunday, on the 26th of September.