Disabled Veterans to MC college students
Of the more than 18 million veterans in the United States, approximately 4 million are disabled. Not all wounds are traumatic from bullets or the shattering of the mind through combat. For disabled veterans, all wounds small and large make transitioning from boots and uniforms to books and pens that much more difficult. For three disabled veterans, that now attend Montgomery College, in Rockville, their journeys to the classroom have been arduous and almost never happened.
While deployed in cooperation with the Jordanian military as apart of joint exercises, former United States Marine Corps Lance Cpl., Oswaldo "Tito" Pazmino contracted dysentery. This disease required him to lose his colon and in a rare side effect of his medicine; his lungs began to deteriorate as well. When Pazmino first realized he was sick, he drove himself to a military hospital with only weeks left to live. Despite these hardships, he does not dwell on the "what ifs", the months of recovery, or what was taken from him. He sees the bright side of being alive and whole.
"When I met other wounded veterans who have it way worse than I do. It motivates me. While I was recovering at Walter Reed Hospital here in Maryland I met leg amputees, arm amputees, or quadruple amputees. I met a guy who had burns all over his face. You see these guys and you realize you have everything you need to succeed and they may not," says Pazmino.
Pazmino is now working on becoming an occupational therapist in order to help other disabled veterans who may need to discover entirely new ways of living after returning from their lives in the military. For another veteran, former United States Air Force Staff Sergeant Mike Lacanilao, his wounds were not from overseas duty, but from falling victim to acute myeloid leukemia.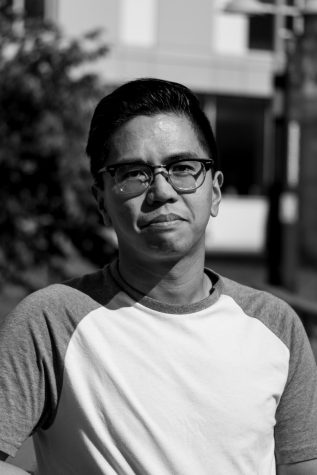 "I wasn't running fast anymore, I was tired, I was getting sick, I was in pain internally and was getting pimples and bug bites all over my face which turned out to be a fungal infection," said Lacanilao. "They did blood work, figured out I had too many white blood cells and what was wrong, and I was rushed to an emergency room.
The first week of chemotherapy for Lacanilao is a blur to him even now. Fever, infection, and chemotherapy put him through tremendous amounts of pain as he fought for his life. A fight that took him through many months of therapy, bed rest, and stem cell transplants from his mother and brother. For Lacanilao what hurt in addition to his recovery, was the Air Force deciding to medically retire him.
"I had been in the Air Force for ten years by then and I had been planning to do twenty years and make it a career," said Lacanilao. "The stress of separating and thinking of a new career made me depressed as I processed out of the military. The resources of the military are no longer here which is tough. I'm making it though."
Lacanliao graduated high school in 2006 so coming back to school made me nervous. Chemotherapy can adversely affect one's brain temporarily and sometimes permanently to the point that some may call it "chemo brain." Lacanilao, however, is a successful student and even tutors fellow students as he pursues a degree in computer science.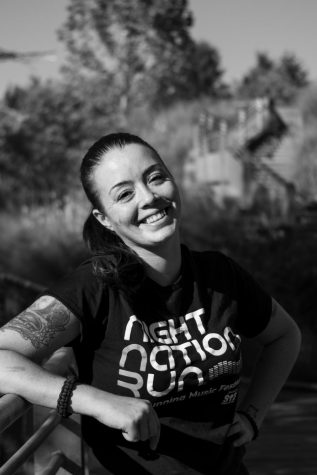 For Shelby Myott, former U.S. Army Specialist, being in the military had been the stabilization in her life that she needed after difficult teenage years. As a communications specialist with an artillery unit, Myott had planned on making a career from the military as well. Her plans stopped when a nerve disease from an injury spread throughout her body, which began to shut down various organs.
"I was angry. I was losing my career without a say in it. I was losing something I was passionate about," says Myott.
Myott was crushed while in the demilitarized zone between North and South Korea which required her have metal inserted into her foot. The nerve disease spread as a result and she was taken to a civilian hospital for their specialization in order to recover.
"I thought about those guys who ended things and I decided not to because I have to keep going when they did not," said Myott. She wishes to inspire others by not losing hope even when she was told she would never walk again.
Pazmino, Lacanilao, and Myott have experienced the loss of other veterans who died of wounds or committed suicide because they no longer wished to fight. These experiences are sobering reminders that not everyone returns home.
Ultimately the message these disabled veterans are putting out is to persevere. Don't quit. There may be dark days ahead but if you are still here then you must keep fighting. For those veterans who may be struggling with wounds or damaged minds, utilize the resources that are in place. Speak to fellow people who may also be struggling. You are not alone.
Each of these individuals struggled going back to school but spoke to other students about study habits and using the resources available to students to succeed. Pazmino would even ask his classmates simply, "hey how do you study, what can I be doing better?" Their journeys were difficult and almost didn't happen. They're making it despite everything that could have gone wrong. They're making it after removing their boots and uniforms to pick up books and pens instead.
Leave a Comment