Social and Volunteering Club Cleans Rockville Campus
"First and foremost, Earth Day is every day; however, once a year, society has decided to pay homage to a day to celebrate the earth. To me, Earth Day is just a way to get people together to realize how we have one Earth; there's no 'Planet B' and we have to preserve it in any way we can," the volunteer coordinator of Montgomery College Rockville's Social and Volunteering Club, pre-law sophomore Campbell Walsh, voiced in an interview with the Advocate. She continued, "The future generation have to deal with the consequences of past generations and our current power, so it's important to just try to educate those around us to ways we can improve our quality of life."
Thus, the Social and Volunteering Club coordinated a campus-wide cleanup on Friday, March 21st, 2023 on the eve of 2023's Earth Day. More than 42 volunteers belonging to six different clubs and organizations picked up seven bags of recyclable materials and six bags of trash.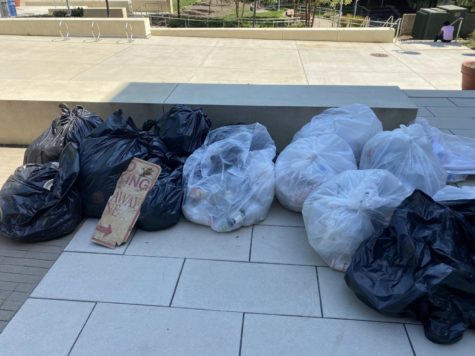 For background, the club's president, business major Renzo Rodriguez, founded the group his first semester at MC in Spring of 2022 when he told himself, "'I'm gonna start a club here.'" Rodriguez recalls intending that, "bringing people together, hoping to make friends, and using the idea of the friendship building to go out and help other community because I know the second we become friends we would be able to do things together."
"My goal has always been to just help out people, so I want to make it to law school and do criminal defense laws so I can help out people in poor countries, especially my own from from Peru – some areas are very poor, lacking water and food, and sometimes I wish I could go and help them… and as a religious person myself, I've always found it important to take care of God's creation," Rodriguez revealed.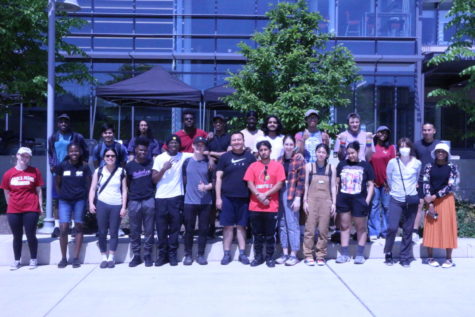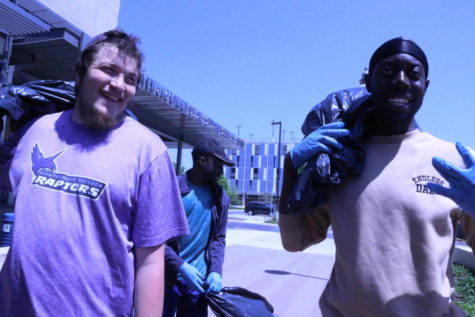 During the event, which happened in a couple of shifts, students split into two groups to systematically combat pollution. Participant Tyler Osong joined the club at the beginning of the spring 2023 semester. The student described the event as focused on making "the environment better," as he reflected on finding a mixed bag of litter on the ground, including cigarettes and water bottles.
"During lockdowns, there was no way to make friends, and even now, it was hard to make MC friends because they go to class, run out, go home…" said Rodriguez. The Social and Volunteering Club President implored, "Go meet people, go join clubs – our club is one of the biggest clubs and we became big because we just gave our message very simple: we're here to make you happy, to help you make friends, and get back to community. We volunteer; we go on hiking trips; because people have fun, and give back to community… In my opinion, giving back is also fun."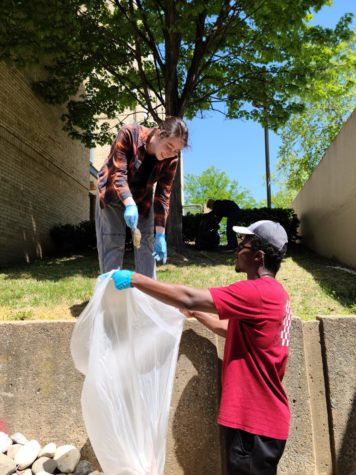 Coordinator Walsh announced her next endeavor with the club starting with the issue she will tackle: "May 1st, the pandemic care legislation decreased the amount of SNAP benefits or food stamps given on average; families are now going to receive $80 less for food related expenses in a time of inflation and rising food costs.
"So, we are trying to help support local food banks by running a physical food drive and also a virtual one where people can contribute money, and that money can contribute towards certain amounts of food. For instance, the Maryland Food Bank has declared that they are willing to meet all of the food related insecurity that's been caused by the lack of legislation."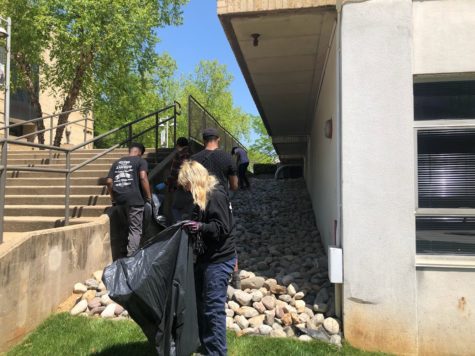 MC honors students earning 20 or more community service hours in one school year with the Spirit of Service Award. Additionally, if they logged over 100 hours in the MC Serves database, they have eligibility for the MC Spirit of Service Medallion and the U.S. President's Volunteer Service Award.
Note: Advocate Assistant Editor, Alana McCarthy Light, participated in the clean-up day.
For more information on service-learning at MC:
https://www.montgomerycollege.edu/life-at-mc/student-life/service-learning-civic-engagement.html
For more information on student life:
https://www.montgomerycollege.edu/life-at-mc/student-life/rockville/index.html