Club Feature: Software Development!
The Software Development club on the Rockville campus exists to bring students together over a common interest: programming. As a club, they also participate in hackathons and host MC's Day of Code each semester.
Jimmy Rodriguez is a computer science major and the club president. He has led the club for a year now. He describes it as a place for students not only to work on programming projects together but also to help each other with classwork from computer science classes.
"I want to tell people things I wish I knew when I started," Rodriguez said. "I was ready to drop for sure when I took [the first programming class]." He added that it's easier to understand coursework when getting help from peers at the club as opposed to getting help from a teacher, videos or books.
Although the majority of the club members are computer science majors, there are also many who are in general STEM, or not in STEM at all.
Nelson Hernandez and Ashin Thomas, two members of the club, emphasized the unity and community they found in the club. "Everyone is close friends," said Hernandez. Thomas added that it was convenient that most of the members are in the same major and classes, so they can help each other out.
One of the group's most recent projects is a mobile app called Purple Plan or Raptor Plan, which they started working on over the summer. Club members split into an iOS team and an Android team to develop the app for the two different mobile platforms. The app helps students plan which classes to take based on their major and the college they plan to transfer to. Currently, only the computer science major is supported, although there are plans to support more. The iOS version of the app is on the Apple Store, while the Android version has not yet been published. Both are still in development.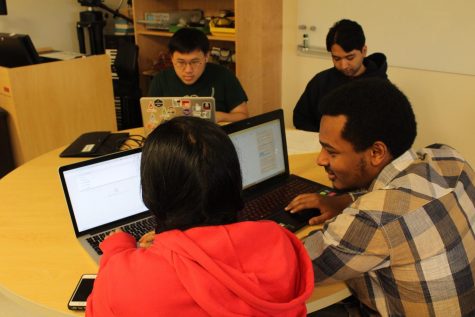 Yonathan Kebede, the vice president, was on the Android team. Two of the things he enjoys most about the club are the teamwork and fun that they have. He also mentioned that he enjoys hackathons, one of which the club was preparing for at the time that I visited.
The club participates in hackathons regularly, roughly every two months. Hackathons are events usually held at universities, where competitors are invited to collaboratively work on a project and use their creative and inventive sides to build and share a new idea over the course of one or two full days.
Members of the club just participated in HackUMBC this past weekend, Oct. 20 and 21.
Doe, who serves as the public relations officer for the club, described hackathons as not only a good place to gain experience, but also a place to take advantage of internship opportunities. Big companies such as Facebook, Google and more often sponsor these events.
The club's main event is the Day of Code, which will be held on Nov. 13 this semester. The Day of Code will be a four-hour event to teach and inform the community about programming. It is open to anybody, regardless of previous experience with programming. Beginners are invited and encouraged to come to learn a little about what coding is like. The event will be on Tuesday, Nov. 13 from 2 p.m. to 6 p.m. in Science Center West, room 317, and will involve prizes and food.
Even if you are not sure you are interested in programming, you are still invited to come and check out the club. "It's kind of like riding a bicycle," said Rodriguez, about coding. "It sucks, you fall down a lot at first. But when you know how to ride it, it's kind of fun."
He emphasized that you do not need to be able to attend meetings in order to be part of the club; you can come to both meetings, or just one. If the times are not convenient, Rodriguez offered to meet individually with anyone who can't make meetings but would like to get plugged in.
The club meets twice a week in SC414: on Monday from 12 p.m. to 2 p.m. and on Thursday from 10 a.m. to 12 p.m. The club adviser is Dr. Alla Webb, a computer science professor.
The club also uses Slack to communicate. If you are interested in joining, contact the club via the club email, [email protected].
Leave a Comment