English & Reading Dept. Host Banned Book Scavenger Hunt
 Books give readers safe haven, fantasy worlds, intrigue and horrors otherwise unobtainable in their daily lives. Stories bring to life creatures of dreams and nightmares and paint scenes of lands known and unknown. Authors weave words that can touch a soul and leave readers weeping over characters created in the minds of authors alone. When breaking down the physical components of a book, it is simply paper, ink and glue. What unfolds within the pages is what has caused conflict so controversial that some of the most popular pieces of literature used in academia were banned at one point in history.
Literature department teachers handed out some of these formerly banned books as a reward for finishing a banned books scavenger hunt Sept. 26. The hunt was part of the literature department's goal to provide fun ways to generate more interest in literature courses. Clues for the hunt associated banned book themes to departments across campus where students would take photos and return to claim their prize. Students had the choice between a banned book or a ten dollar Montgomery Campus bookstore gift card. Participants also received buttons for following the English Reading Department's Facebook and Twitter pages.
"It gave us a chance to have a conversation with the students about why books get banned or challenged in different school districts," said Megan Howard, an English professor at Montgomery College. "Literature needs to explain and illustrate the breath of human experience. I think it's important to fight against censorship. It is important to share these kinds of stories that deal with difficult themes because that is what life is all about."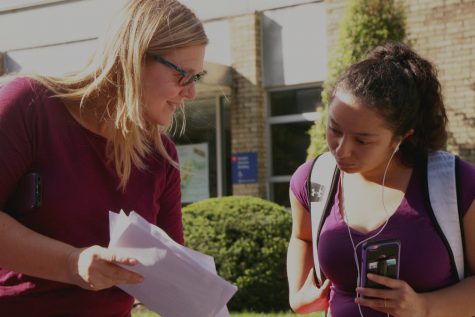 Howard smiled when she proudly stated that when given the choice, students chose the books before the gift cards. Of the 30 books, 29 were claimed during the event when compared to 16 of the 20 gift cards. All the books that were given away have been on the American Library Association's top list of banned and challenge books. There were three copies of each of ten different books. Some examples of book prizes included: To Kill a Mockingbird, A Wrinkle In Time, The Kite Runner and The Catcher in the Rye.
"There were some books that I saw that were banned that I've already read since high school," said Marianeli De Leon, a student at Montgomery College. "I asked to myself, 'when did these get banned and why did they get banned for?'"
"It was exciting for us as faculty because the students got really excited about the books," said Howard, "and as an English person, seeing people get excited about books is the best thing ever."

For more information on English & Reading Department Programs Follow on Twitter @mc_englread
Leave a Comment