MDJUCO Tourney: Raptors Fall Short Against Harford CC, Eliminated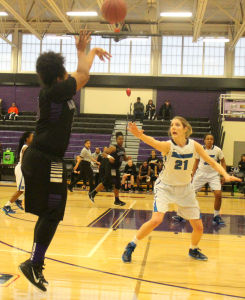 On Thursday, it looked as though the Raptors had tackled their demons and were ready for a successful run in the MDJUCO tournament, as they defeated a longstanding thorn in their side, the Chesapeake Skipjacks.
On Saturday, MC's women's team's promising season ended in a loss against Harford CC, after failing to overcome a double-digit deficit since early in the first half.
Although the Raptors (15-10) finished on a high note to close out the season, after beating Brookdale CC by nearly 30, they were a six-seed going into the tournament, whereas the Harford Fighting Owls (19-4) entered as a two-seed, and had just routed Frederick CC 139-72 in the previous round.
One could make the argument the lady Raptors were playing with house money by advancing to Saturday's round, but MC's players and staff didn't find solace in any moral victories after the loss.
"It's definitely disappointing," said Raptors forward Latasha Gross. "As a team, we felt good about our chances going into the game. We just didn't execute well enough out here."
Gross played through a gutsy performance against Chesapeake earlier in the tournament after suffering a nose injury in the second half, and her effort paid off as she carried the Raptors in the latter part of regulation. However, MC had no such late run on Saturday.
Perhaps the most frustrating factor of the loss was the inability to get into a consistent offensive groove and cut Harford's lead down to less than 10.
Although the Saturday exit is disappointing for Montgomery College's women's basketball team, having a short bench and an interim coach, yet still making a deep tournament run, is nothing to reshape the program over.